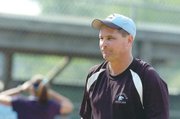 Citing the desire to watch his daughter play college softball and become more of a part of his two sons' baseball careers, Rich Ferrick has stepped down after 13 years as the head softball coach at Centreville. Ferrick, who amassed a career record of 233-81, led the Wildcats to the Northern Region title game this year and a Virginia AAA state tournament berth.
His daughter, 2009 Centreville graduate Jess Ferrick, who was a first team All-Region pitcher for the Wildcats this spring, will continue her softball career at Marshall University with friend and teammate Victoria Marvin.
Ferrick's two sons -- Mitch, 12, and Joe, 12, -- are both avid baseball players and Rich Ferrick hasn't been to nearly as many of their games as he would've liked.
"I've been doing this for 27 years, and I just kind of felt like it was time," said Ferrick, whose team posted a record of 21-7 this spring, capturing the Concorde District title with a 5-1 win over Fairfax on May 18.
Ferrick started his career as a junior varsity coach at Marshall in 1982 and came to Centreville as a varsity assistant in 1989. The 1997 season was Ferrick's first as the head varsity coach, and he has since led one of the Northern Region's most successful programs.
"When I coach something, I want to commit to it 100 percent," Ferrick said. "I didn't feel like I could do that for this team and still try to do what I want to do in the way of getting down to Marshall and watching Jess play or even watching my boys play."