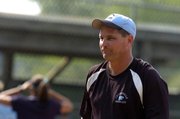 <b>Coach:</b> Rich Ferrick, 11th season
<b>2007 Record:</b> 19-4
<b>Key Losses:</b> INF/OF Erin McKee, C/INF Taylor Patton, INF/OF Catherine Pruiett.
<b>Key Players:</b> INF Hayley Morton, SR; P Brianne Pease, SR; INF Kirsten Sepulveda, JR; C/SS Victoria Marvin, JR; INF Megan deLorimier, SR; P Jessica Ferrick.
<b>Quotable:</b> "The offense has to be there. We have to put the runs on the board." – Centreville head coach Rich Ferrick
<b>Outlook:</b> Last year, the Centreville softball team enjoyed a bit of anonymity during the regular season. With the focus on district heavyweights Robinson, Westfield and Herndon, the Wildcats were allowed to piece together an impressive 19-4 record, win the Concorde District tournament and come one run short of heading to the state tournament.
It's understandable, then, that head coach Rich Ferrick hopes for the same amount of preseason attention this year.
"We are trying to hide. The great thing about last year is that I think everybody was focused on Robinson and Westfield, which they should have been. I think that we snuck up on some people," said Ferrick.
That's not going to happen this year.
"I think that, unfortunately, people will be keeping a closer eye on us," said Ferrick. "We have to show up an be ready to play and people are going to be gunning for us. We have to continue to improve."
The Wildcats return eight players from last year's squad. Five are returning starters. Senior pitchers Brianne Pease and Jessica Ferrick, who combined to allow 13 runs in the Wildcats' last 11 games, both return.
"I think that we are very fortunate. Most teams are trying to get by with one [pitcher]," said Ferrick. "When you start to figure out one [pitcher], we bring in the other. Brianne will move that ball around a lot and make it tough. Jessica throws a little bit of a hardball with the changeup. I think that it really makes it tough on the hitters."
Both pitchers were named to the Concorde District first team last year.
"Between the two of them, they keep the hitters on their toes," said Ferrick.
The Wildcats will also look to continue swinging the same hot bat that saw them pour 10 runs on Herndon in the district semifinals, four runs in the district final against Westfield and nine runs against Madison in the region quarterfinals.
"Our bats really came alive at the end of the season," said Ferrick. "I was used to the 1-0 or 2-0 games. The offense has to be there [this year]. We have to put the runs on the board."