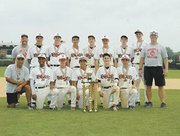 <b>That's Fast</b>
Competing at the USATF National Junior Olympic Track and Field Championships, on July 28-Aug. 2 at North Carolina A&T University in Greensboro, N.C., South Lakes graduate Vincent Brown won the 110-meter hurdles in the Young Men division. Brown finished the event with a time of 14 seconds flat. Earlier this summer, Brown ran a personal-best 13.91 in the 110 hurdles at the USATF Region III Championships.
<b>RSTA Records</b>
Under beautiful summer skies on Saturday, July 25, the Reston Swim Team Association conducted its final event of the season, which is the annual All-Star meet, which took place this summer at Lake Newport in Reston.
For the Hunters Woods Blue Marlins, Alex Li broke two individual records. Competing in the 11-12-year-old boys' age group, he set a team record in both the 50-meter freestyle and 50 backstroke. In the freestyle, Li broke his old record of 29.20 seconds with a time of 28.95, and in the backstroke he broke his old mark of 34.52 with a new time of 33.54. Another team record was set in the 15-18 boys' age group when Kevin Cho swam the 50 freestyle in 25.60, breaking the previous record that was set in 1997 by Steven Webb (25.80). In the boys' mixed-age freestyle relay, Philip Pan, Thomas Evans, Alex Li, Logan Nasr and Kevin Cho set a record with their time of 2:03.68, eclipsing a mark that had stood since 1990.
Zachary Batts of the Lake Audubon Barracudas lowered his own time in the 15-18 boys' age group for the 50 breaststroke to 33.33. And in the 11-12 girls' 100 medley relay, Kaylyn Macaluso, Sabrina Groves, Anna Weidman and Madeleine Daum set a record with a time of 1:06.61. In the 15-18 boys' 200 medley relay, Austin Chute, Zachary Batts, Will Sickenberger and Andy Reinhold set a team record by touching the wall in 2:01.49.
The Lake Anne Stingrays' Jason Fu continued to impress. Swimming in the 11-12 boys' age group, he broke his old mark in the 50 breaststroke with a time of 37.62, bettering his old mark by well over two seconds. In the 15-18 boys' age group, Mark Rodakowski broke his old record in the 50 breaststroke with a time of 31.50, shaving almost three-quarters-of-a-second off of his previous best time.
By touching the wall in 33.21, Robin Brazier of the Autumnwood Piranhas set a record in the 15-18 girls' 50 backstroke, eclipsing a record that was set back in 1995.
Brad Dillon (Ridge Heights Sharks) set a record in the 15-18 boys' 50 backstroke with a time of 28.31, besting the record that was previously set by Adam Orton in 1997.
For the Newbridge Dolphins, Shannon Burke set a record in the 15-18 girls' age group. Her time in the 50 freestyle of 29.63 broke a mark that had stood since 2003. Burke also broke her old record in the 50 breaststroke with a her new time of 38.27, shaving over a second from her previous best time. In the 15-18 girls' 200 medley relay, the team of Krista Early, Maura Burke, Shannon Burke and Mary Okoth set a new record with a time of 2:21.19, breaking the old record of 2:21.44 that was set in 2003.
With a time of 29.50, Rachel Swarts of the North Hills Hurricanes set a record in the 13-14 girls' 50 freestyle, breaking her old mark that was set earlier this year. Swarts also helped her teammates, Emma Tierney, Ellie Shelton and Patricia Tran, set a record in the 13-14 girls' 200 medley relay. Their time of 2:22.74 smashed the previous mark of 2:27.13 that was set in 2008.
<b>Renegades Rule</b>
The Virginia Renegades U-15 travel baseball team capped its season by winning the Cooperstown Baseball World Championship in Cooperstown, N.Y. The Renegades beat the San Francisco Fog, 3-0, behind a complete-game, two-hit shutout from Nick Beaulac. The Renegades scored three runs in the first inning and shut out the Fog with steady defense. To win the championship, the Renegades beat teams from the Dominican Republic, Puerto Rico, Canada, New Hampshire, Pennsylvania and California. The victory in Cooperstown was the fourth tournament championship for the Renegades this season, as the team also won the Mickie Gordon Memorial Day Tournament in Purcellville, the Northern Virginia Travel Baseball League JV Championship and the Morgantown (W.Va.) Marathon.
<b>Argy Makes Team</b>
Kim Argy, an Oak Hill native and Chantilly graduate, was recently named to the Colonial Athletic Association Silver Anniversary team for women's soccer. A James Madison graduate, Argy was a three-time All-CAA performer from 2002-05. She was also the conference's Rookie of the Year in 2002. Her career marks of 34 goals, 78 points and 15 game-winning goals are all top-five marks in school history. In addition to being named a freshman All-American in 2002, Argy was a two-time All-Region performer as well as a member of the 2005 National Soccer Coaches Association of America Scholar All-American team. As part of its 25th anniversary, the CAA is recognizing Silver Anniversary teams in 25 sports, with selection determined by a panel of current and former coaches from within the conference.