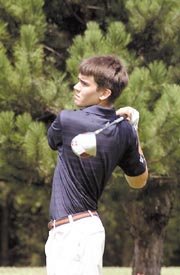 <b>Spartans Win Patriot District Preview</b>
Just two days after losing to Lake Braddock Secondary School's golf team in a tri-match with Annandale, West Springfield's Bobby Bradshaw beat Lake Braddock's Kenny Towns by one stroke to give the Spartans the victory at the Patriot District Preview on Aug. 19 at Twin Lakes Golf Course.
Bradshaw sank a 6-foot putt on the 18th-hole, which gave him a 72 on the day and beat Towns' score of 73. Lake Braddock and West Springfield were tied with team scores of 308, but it was Bradshaw's 72 that gave the Spartans the win in the tiebreaker.
West Springfield's victory at the Patriot District Preview also ends Lake Braddock's three-year unbeaten streak at the Patriot District Preview.
<b>Baseball book signing</b>
Local youth baseball coaches looking for coaching advice might interested in a book signing with semi-pro baseball Manager Tim Knouse on Saturday Aug. 29, at Borders at Springfield Mall from 1-4 p.m.
Knouse, a 16-year coaching veteran and current manager of the Hampstead Heat, will be signing copies of his book, Amazing Baseball Tips. The book features practice drills, training techniques and tips on how to keep children interested in baseball.
"At youth levels we are teaching much more than the science of baseball. We are teaching sportsmanship, teamwork, respect, and how to win and lose with dignity," Knouse said in a press release.
Knouse has coached at all age levels in baseball and in 2008 he led the Hampstead Heat to the Central Maryland Men's Baseball Association Championship.
<b>Call for Community Input</b>
The local youth football, tennis, volleyball and cheerleading seasons have started and the Connection doesn't want any child's accomplishments in to go unnoticed.
Each week, the Connection's collection of 17 weekly papers serving Northern Virginia and Potomac, Md. will post team results either in print or on the Web. But to do so, we need your help.
If you receive the Burke Connection, Centre View-North, Centre View-South, Fairfax Connection, Fairfax/Station/Laurel Hill Connection or Springfield Connection, e-mail Sports Editor Reed S. Albers at ralbers@connectionnewspapers.com