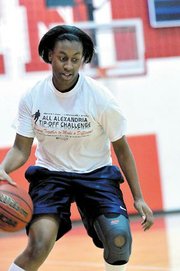 How does one replace a legend?
Tierra Ruffin-Pratt finished her T.C. Williams career as the girls basketball program's all-time leading scorer. Her No. 4 jersey was retired. She led the Titans to the state quarterfinals as a senior in 2009 and is now playing for the University of North Carolina.
Memories of the All-American will remain with former coaches, teammates and those who watched from the crowd. But life continues for T.C. Williams, which must move forward without one of the best players to ever pass through the program.
How does one replace a legend?
Returning starters isn't the answer for the Titans, who lost all five from last season. But despite lacking experience, T.C. Williams showed flashes of ability during a Nov. 21 scrimmage against St. Andrew's. Second-year head coach Cavanaugh Hagen used multiple lineup combinations and watched as athletes like sophomore point guard Sofie Schedler emerge as potential playmakers.
HOW DOES one replace a legend?
One player certainly won't fill the void left by Ruffin-Pratt. A player of that caliber can't be replaced. But the Titans are hoping one team full of hardworking players will be enough to find success as T.C. Williams ventures into life without "T."
"There was always a team with Tierra, so now we're just all trying to step up and show everyone else Tierra had four other people on the court with her, too," said junior Rainie Summa, who played sparingly on the varsity as a sophomore. It "is hard to prove sometimes, but we're doing our best."
While the Titans have a positive approach, not everyone shares the same outlook.
"Even people in our school are like, 'I don't know if you guys can do it,'" Schedler said.
It's up to Hagen to find the right combination of players. The coach has preached hard work and time in the gym to the Titans, and said she might use as many as 14 different players during games. Regardless of her approach, Hagen knows the team will have to perform in order to make believers out of some.
"Not everyone is going to be in your corner until you keep winning," she said. "It's a bandwagon thing. If they're going to jump on it, we have to win against some teams that people didn't think we could. As long as we know we can win, then no one else is going to get in our way."
SO WHO are the potential playmakers?
Summa (5-7) is the team's top perimeter shooter. She scored 13 points against St. Andrew's on 6-of-13 shooting and was one of two Titans to knock down a 3-pointer.
"She's a pure shooter," Hagen said. "So when she gets her feet set and squared up to the basket, it's almost always going in."
Schedler (5-6) has a chance to start at point guard. She showed off her defensive skills against St. Andrew's, coming away with several steals.
Hagen said senior guard Charnelle Huggins (5-9) makes her teammates better while she's on the court, and called junior forward Jasmine Norman (5-10) one of the most athletic players in the Patriot District.
"When [Norman] gets out and runs," Hagen said, "you can't stop her."
Seniors Keely Porterfield (5-9), Jenee Baily-Edmondson (5-9), Diamond Copeland (5-8), Ashley Crenshaw (5-6), Chelsae Hopson (6-2), Tanera Jackson (5-3), juniors Olivia Allen (5-3), Sade' Barber (5-6), Demi Williams (5-11), and freshman Christian Roberts (5-10) will compete for playing time.
Defensively, Hagen said the Titans will have an in-your-face approach. Offensively, the coach said the team has the ability to outrun opponents.
"More than run-and-gun, we are out-to-the-races," Hagen said. "Once we have the ball, we run our lanes. The guards fly. I just tell them to go because you know the ball is in good hands, as far as the point guard. Our [power forward] and [center] are running the court faster than most of their players."
T.C. Williams opens the season on the road at 7:30 p.m. Friday against Freedom. The Titans' first home game is 7:45 p.m. Tuesday against Hayfield. Life without Ruffin-Pratt will soon be put in action.
"Everyone's trying to find their role and we're all trying to step up and play as a team because all the teams are gunning for us right now," Summa said after the Titans' first scrimmage. "They think we have no T-Pratt, so there's nothing, and we're all trying to prove them wrong."
Can the Titans do it?
We're "going to be better to watch because there will be tighter games," Summa joked, "but … we'll pull out [wins]."