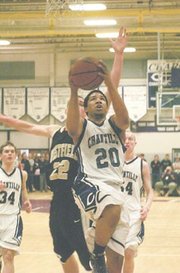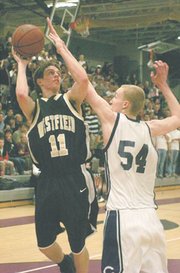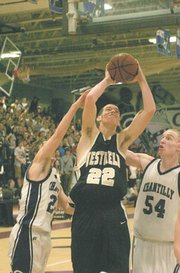 Tuesday night's rematch between the Westfield and Chantilly boys basketball teams delivered every bit as much excitement as the first meeting between two of the area's top teams, though Chantilly coach Jim Smith would hardly have complained had it not.
His Chargers relinquished a 14-point lead — acquired with Justin May's 3-pointer 66 seconds into the final period — and led by only three (52-49) when May was fouled on a shot attempt with 2:18 remaining.
May, a slashing senior guard who finished with a game-high 30 points and showed no ill effects from a hamstring injury incurred after a 61-57 win over Fairfax on Jan. 29, converted both of his attempts, as Chantilly closed the game on an 11-2 run and walked away with 63-51 win.
"We had to attack their pressure, and we had to get stops on defense," said May, who scored eight of those 11 points. "They got too many transition buckets."
By topping Westfield for the second time this season, Chantilly wrapped up its first-ever perfect district season at 12-0 and will be the top seed during next week's district tournament. Chantilly can achieve the school's top regular-season record in history if it earns a win over Falls Church on Friday to improve to 20-1.
Westfield, meanwhile, suffered only its second district loss all season. The Bulldogs are now 17-3 overall but can finish the district season at 10-2 and earn the No. 2 seed for the postseason tournament with a win Friday over Herndon.
"The most important thing that we have to do is to try and take care of business on Friday," Westfield coach Doug Ewell said. "Then we're 0-0 and have to start off from there."
<b>CHANTILLY TOOK</b> a 30-18 lead after the opening half, holding Westfield's leading scorer, senior forward Chris Kearney, scoreless during that time. Meanwhile, May caught fire and finished with 12 points in the first 16 minutes.
"I thought in the first half we came out and did everything that we talked about in practice," said Smith, whose team has now won 10 straight games and hasn't lost yet this year. "I thought we did a good job doing what we needed to do to be successful against them.
"And the nice thing was that they cut it to three and at that point you can go one of two ways -- I thought we bucked up."
Six-foot-11 sophomore John Manning (18 points) slammed home a two-handed dunk with 1:55 left in the third to give the Chargers a 41-32 lead but Westfield continued to trail by as many as six but no more than 12.
Then, after May hit his third and final 3-pointer of the evening, Westfield stormed back on a 13-2 run, which was punctuated by senior Jordan Anderson's long ball from the right wing. Kearney scored seven of his team-high 13 points during the fourth quarter and Anderson added five.
"I think being at home with the crowd behind us really helped," Manning said, referencing Chantilly's Purple Platoon, which helped the gymnasium inch near its 2,200-person capacity and started the evening with a Lebron James-like white powder toss.
"We were making some bad decisions on the offensive end and turning it over," Manning said of the final few minutes. "I think that's the only reason they were scoring … off of our mistakes."