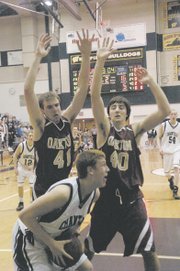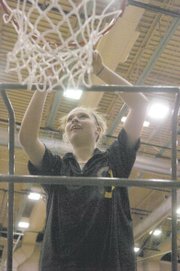 In one of the greatest nights Oakton High basketball has ever known, both the Cougar girls' and boys' teams captured their respective Concorde District tournament championships last Saturday evening at Westfield High School.
In the first title game, Oakton's girls, behind a balanced attack in which four players tallied double figures scoring, captured their fifth consecutive district tournament crown with a 64-55 win over home team Westfield. The top-seeded Cougars, the defending Northern Region champions, received 20 points from sophomore point guard and tourney MVP Caroline Coyer.
Later, the Oakton boys thrilled its large, vocal fan base with a stunning, 43-42, upset win over defending champion Chantilly. In arguably the most memorable region game this winter, the No. 4-seeded Cougars, winners of just three games a year ago, brought the house down when senior tri-captain Andrew Daniels dribbled down the floor before pulling up and converting a 15-foot basket that proved to be the game-winner with 1.7 seconds left.
The Oakton student body section spontaneously engulfed the court in exhilaration when Daniels' shot went through the net. Over the next several seconds, the public address announcer bellowed, `Get off the court, the game is not over,' five times. Eventually, the thrilled students returned to the bleachers and Chantilly, which at one point during the second half had led by eight points, had one final possession. The No. 3-seeded Chargers, however, were unable to get off a good shot. When the final buzzer finally sounded, Oakton's fandom, once again, stormed the court in triumph. This time, they were not asked to leave the floor.
David Brooks, the charismatic, Long Island, N.Y. native and first-year head coach of the Oakton boys, ran around the court in celebration. He finally moved across the floor to the area of bleachers where numerous Oakton fans - most of them team parents – joyfully watched the celebratory scene unfolding in front of them. Brooks raised his arms in triumph towards the crowd, evoking a loud cheer in response.
Daniels, with students and teammates celebrating all around him in the moments following the final buzzer, talked about his final game-winning basket. Chantilly, ahead, 42-41, had missed the front end of a one-in-one at the foul line with nine seconds remaining. The Cougars, with possession, had to take the ball the length of the floor and get a basket to win. They inbounded the ball and got it to Daniels, who moved the ball up the right side of the floor and across half court. He kept his dribble, moved inside the top of the key area and started going towards the basket before, all at once, pulling up for his shot around the foul line area. The ball went in and the Cougars were moments away from one of their biggest wins ever.
"I wanted to get to the rim but I saw [a defender] backpedaling and new the defense would [sag] inside," said Daniels, who led Oakton with 22 points – five of his baskets coming on long range three-pointers. "I had confidence in my shot and I knocked it down."
Oakton, following a 9-9 regular season, opened the district tournament earlier last week on Wednesday, Feb. 17, with a close 47-46 quarterfinals round win over No. 5-seed Westfield. Two nights later, the Cougars, in one of the biggest upsets of the Northern Region season, upended regular season district champion Herndon, 69-53, in a semifinals game. Daniels, who had scored just six points in the win over Westfield, poured in 23 points in the triumph over the Hornets. Oakton then continued its outstanding tournament play with the finals win over the No. 3-seeded Chargers on Saturday.
Daniels said he and his teammates truly believed they could win the district tournament title.
"It might of shocked other people, but it didn't shock us," said Daniels, who earned tourney MVP honors. "Our goal was to win the Concorde District. Our coach, I give him all the credit. We went 3-16 last year."
Of the semis win over Herndon, Daniels said Oakton had played the Hornets tough in two regular season district losses. In both of those games, the Cougars had been unable to hold big leads. In Saturday's playoff win over Herndon, Oakton used its bigger physical size to wear down the Hornets.
"In our previous two games against them we had been winning by 15 points and lost to them," said Daniels. "So we knew we could beat them."
Oakton, which struggled so much last year, was re-energized this season by Brooks, a former Langley High assistant who is in his first season with the Cougars.
"We have a new coach, a new attitude and a lot of people who want the same thing," said Oakton junior guard Steele Shemeld, who was named to the seven-member all-tournament team. "We put in the hours [this season], worked hard and came together as a team. Things just fit – like something out of a movie."
Of Daniels' game-winning basket and the improbable title game win, Shemeld said, "It was completely surreal. To win like that - I never felt anything like that before in my life."
Adi Hajrovic, Oakton's 6-foot-4 inch junior center, earned all-tournament recognition. In the finals he scored six points with five rebounds. Most importantly, he did an excellent job holding down Chantilly seven-footer John Manning (7 points, 5 boards).
"Winning the tournament was amazing. It took a lot of determination," said Hajrovic. "But we knew something good was going to happen this year. I think the key was team work and determination."
<b>EARLIER IN THE EVENING</b>, the top seed Oakton girls (19-1) grabbed early control of its title game against No. 2 Westfield, building a 19-6 lead after one quarter. The Bulldogs never made a serious threat to get back into the game thereafter.
Oakton, which reached the state finals last year, got a huge boost early on from junior guard Danielle Davis, who scored her team's first 11 points as the Cougars rushed out to an 11-2 lead. Three of Davis' baskets during that opening stretch were three-pointers. She finished the night with 14 points. Also scoring 14 points for Oakton were sophomore guard Katherine Coyer and junior shooting guard Zora Stephenson. Caroline Coyer, twin sister of Katherine, led the winners with 20 points. Caroline (MVP) and Stephenson made the all-tournament team.
Katherine Coyer played an excellent defensive game. She was responsible for much of the night in guarding Westfield sharp-shooting guard Shelby Romine, Westfield's team captain and one of the region's top players. Romine was held in check with a hard-fought 15 points.
"She's a real good player and always finds an opening," said Katherine Coyer, of Romine. "She's going to get her points."
Caroline was impressed with her sister's stellar defensive play against Romine.
"I covered Shelby in the [regular] season and she scored 22 points on me," said Caroline, with a smile. "Tonight showed how good a defender Katherine is. On defense a lot of people stepped up for us tonight."
Katherine said Oakton's fast start out of the gate against Westfield was a huge key in the win and the Cougars' earning their fifth consecutive district crown.
"We came out real strong today," she said. "We just wanted to keep up the [Oakton championship] tradition. We just want to continue to play [at next week's regionals] the way we played tonight because there are a lot of good teams out there."