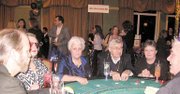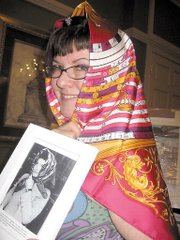 Mix a New Orleans-style Mardi Gras with Monte Carlo, add a Taste of the Town and the annual Vienna-Tysons Regional Chamber of Commerce (VTRCC) Casino Night appears at Westwood Country Club Saturday, March 7.
"Not only is this Vienna's popular Casino Night, but it's also a Taste of the Town with food from about 15 area restaurants," said incoming VTRCC chairman of the board, Gina Cocomello of Alternative House. "It's a great social event, not just for chamber members, but for all people from the community."
Cocomello said that many local guests come back year after year, bringing their friends with them and every year, new faces show up.
"It's lots of fun for everyone, even the volunteers … and we have approximately 50 volunteers," Cocomello said.
Guests are welcomed with Mardi Gras beads and masks and a disc jockey plays upbeat contemporary music. The ballroom is decorated Carnivale-style with lots of intense purples and yellows, Diana Carlin of Damon Galleries said. "When guests walk in, they walk into a pretty and festive scene. It's high energy and people are there to have a good time," she said.
Admission to casino night includes gaming, two drink coupons, goody bags and food from 14 premiere restaurants. Each guest receives $25,000 in chips; winnings can be applied to "buying" tickets for themed raffle prize baskets. A live auction and a silent auction features products and services ranging from a diamond necklace valued at $1,300 to a $1,000 shopping spree at Tysons Corner to grandstand tickets at the Macy's Thanksgiving Parade and tickets to D.C.-area sporting events.
Area restaurants donated gift certificates and Del. Steve Shannon (D-35) and Sen. Janet Howell (D-32) each contributed a Commonwealth of Virginia flag that was flown over the state Capitol, tucked among the diversity of donations are spa, legal, business and medical services.
"Considering the world we live in, the response from sponsors is amazing," said Rebecca Diamond of Chima Brazilian Steakhouse, event chair and the chamber's vice president.
TICKETS to the VTRCC Casino Night and Taste of the Town are $75 each, which includes the gaming chips and drink coupons, as well as food sampling at more than a dozen Vienna-Tysons area restaurants. Saturday, March 7, 7 p.m. to midnight, at Westwood Country Club, 800 Maple Ave., E. Dress is "fun casual." No one under 21 years of age admitted. For more information or to reserve tickets, go to www.vtrcc.org/casino or call the chamber at 703-281-1333.
Participating restaurants: Plaka Grill, Church Street Pizza, Vienna Inn, Wildfire Restaurant, Jaipur Royal Indian Cuisine, Monterey Bay Fish Grotto, Morton's The Steakhouse, McCormick and Schmick's, J.R.'s Stockyard Inn, The Chocolate Chick Chocolate Fountain, Danielle's Desserts, Lebanese Taverna, Life Balance Figure-it-Out and Tropical Smoothie Café. Pie Gourmet is a sponsor.
"It's a great event and a good value," said Carlin. "I was surprised at how much fun people were having last year. They were laughing, shouting, having such a great time."