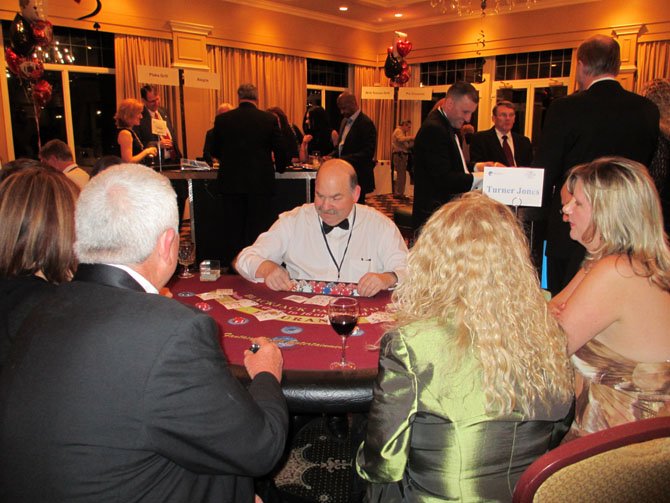 The "glitterati" of the Vienna area and their out-of-town friends came out for Monte Carlo-style fun at Westwood Country Club on March 3. Sponsored by the ViennaTysons Regional Chamber of Commerce, the gala event was the Chamber's annual casino night and taste-of-the-town community party. Tickets included gambling "money," drink coupons, samples from 15 local restaurants, raffle prizes, music, and the opportunity to bid on classy silent auction items. An all-inclusive tour to Costa Rica and a safari in Africa were among the silent auction items.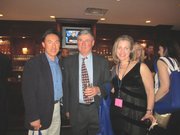 A gamer's winnings were turned into raffle tickets. The more chips you earned, the greater the number of raffle tickets. Raffle tickets were placed into numbered raffle bags corresponding to the hoped-for wins.
As casino night guest Maris Angolia said, "you can't beat the incredible restaurants, fun gambling, great prizes and, of course, all the wonderful friends we've met across the years."
In honor of Monte Carlo, guests were invited to dress up in their most chi-chi 007-type of clothes. There were gowns, lots of bling, and tuxedos among the guests.
Vienna Town Council members joined the fun, as did Vienna Mayor M. Jane Seeman, Vienna delegate to the General Assembly Mark Keam and U.S. Congressman Gerry Connolly [D-11].
Several hundred guests mingled and played craps, blackjack and slots throughout the evening. A DJ played upbeat classic rock, and participating restaurants offered signature foods from their restaurants, from ethnic to American contemporary and dessert.
"Casino Night is a very special evening for me," said Angolia, CEO of Karin's Florist. "My husband, Mark, and I met at a VTRCC brown bag lunch and I was chairing casino night that year. He asked for information about it, I sent it to him, he came and the rest is history. That was 15 years ago. We even plan vacations around it."