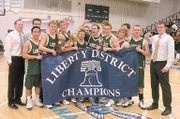 For much of the winter basketball season, the Langley High boys team was almost an afterthought in its own Liberty District.
The Saxons, who a year ago captured the district title and shocked the Northern Region with their first trip to the state AAA playoffs, started this season slowly and were not as highly regarded as district teams such as Woodson, South Lakes and Madison. During one stretch in January, Langley lost four straight district games to fall to 2-4 in district play. At that point, the Saxons looked anything but a team that would successfully defend their district crown.
"I don't think anyone thought of us as reigning champs," Derek Baker, Langley senior guard, said.
<b>BUT IN QUITE</b> a remarkable turnaround, Langley put things together over the second half of the season, winning eight of its final nine regular season games — all within district play — to earn a No. 3 seeding at last week's eight-team district tournament.
There, the Saxons just kept rolling. Following a frightening first-round overtime win over scrappy No. 6-seed Marshall, Langley defeated crosstown rival McLean in a semifinals game on Feb. 18. That put the Saxons into Friday's title game against top-seeded Woodson. Langley (18-6), in the finals game, played one of its best games of the season in a decisive 52-36 win over the Cavaliers in the contest played at South Lakes. Langley jumped out early, 15-3, and never looked back.
It marked the second straight year in which Langley garnered the tourney title. A year ago, the Saxons defeated McLean in the championship game. It was not easy, but Langley, with the win over Woodson, had once again earned the title.
"It's unbelievable," Langley senior guard Barrett Hunter said of the championship game win. "I knew we could do it again. We put ourselves in great position. We played great defense. It's great to win the district championship your senior year."
This week, Langley opened play at the 16-team Northern Region tournament with a first-round game against visiting Lee. The Saxons were hoping to duplicate last year's success at regionals when they went all the way to the finals before losing to T.C. Williams.
<b>THIS SEASON</b> turned for the better for Langley Jan. 16, when it defeated the same Woodson team, 52-50, it would ultimately defeat for the district crown. The Saxons, on a four-game losing streak going into the home contest against the first-place Cavaliers, were in desperate need of a victory. It was not easy against a talented Cavaliers' squad, but the Saxons got it. And they have been winning since.
"That win was the turning point of our season, to be honest," Langley coach Travis Hess said of the Jan. 16 victory. "All good teams go through hard spots [on the schedule]. That's where we were."
Hess told his club at that time that he believed the Saxons and Woodson would ultimately meet in the tournament finals.
Baker, who earned tournament MVP honors on Saturday, recalled coach Hess encouraging his players during the tough losing streak.
"Coach just said, 'Keep playing hard,'" recalled Baker. "We couldn't go lower than we had. We kept playing hard in practice."
Langley went on to win seven straight following the win over Woodson and was playing solid basketball going into the district playoffs. But Langley nearly got tripped up in its first-round game against Marshall, which led by four points in the final minutes of regulation. The Saxons fought back and won, 51-44 in overtime. A loss there would have finished the Saxons' season.
"That Marshall game was a nightmare," said Baker, who scored 19 points in the victory. "None of our shots were falling. We were a little nervous, but we got into overtime and it was a new game from there."
"We shouldn't have won," said Hess. "Marshall had us."
Baker scored 21 points in the Saxons' semis win over McLean to help Langley advance to the finals against Woodson.
There, the Saxons took charge from the start. Hunter knocked down a 3-pointer to start the game's scoring and Langley scored the game's first seven points on way to a 26-9 halftime lead. The score was 39-19 after three quarters.
"We came out confident and played like we'd been there before," said Hunter. "[Winning the title] last year gave us a lot of confidence."
Baker nailed four 3-pointers for Langley on way to a game-high 16 points. Other top scorers for the Saxons were Hunter (nine points), senior center Aaron Justus (eight points, five rebounds), senior guard Thomas Kody (eight points) and senior guard Danny Pritchett (seven).
<b>IT WAS A</b> dominant showing, especially on the defensive end for the Saxons. Woodson senior forward Stephen Stepka, this year's District Player of the Year, was held to seven points. No Cavalier player scored in double figures as the Saxons' defense totally shut Woodson down. Throughout the game, Langley, the second-best defensive team statistically in the region this season, was quicker to loose balls and passionate about its defense. Hunter covered the 6-foot-6 Stepka most of the night.
"Defense [was the key]," said Hess. "We had a game plan to try to limit Stepka's touches. We played him man, box-in-one. Barrett Hunter did an awesome job."
Baker also credited Hunter.
"Barrett came out real strong. He hit that early 3-pointer and he shut down an MVP player. He and TK [Thomas Kody] both played great defense. We knew we had a great defensive team."
Offensively, Langley hit its shots early on to build a lead. Baker, one of the region's best players who has been particularly red hot shooting over the past month, continued his wondrous play. His 3-pointer from the left of the key midway through the second quarter gave the Saxons a 20-6 lead.
Moments later, he drained another long-ranger from the right corner to make it 23-6.
"He's brimming with confidence," said Hess. "His shooting stroke looks great. He's our best player and he's what's making us go."
Baker, the tourney MVP, and Kody both made the six-member All-Tournament Team.