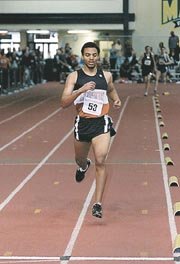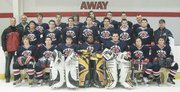 <b>Rams Sixth at State Wrestling</b>
At the Virginia AAA state wrestling finals this past weekend at Oscar Smith High School in Chesapeake, Robinson, despite placing second both in the Concorde District and Northern Region, was the area's top representative, finishing sixth with 74 points. Colonial Forge was the top team with 121 points. The Rams got second-place finishes from 103-pound Jake Smith, 135-pound Roman Perryman and 189-pound Marcus Hathaway.
Both Smith and Perryman won Concorde District and Northern Region titles this season, while Hathaway, wrestling state champion Austin Fallon of Westfield, took second in both of those events.
In the third-place set of consolation matches, Lake Braddock's George Billy scored a pin 3 minutes, 23 seconds into his match with Indian River's Mike Spencer and Hayfield's Ray Borja posted a 12-5 decision over Gary Woods II of Riverbend. Both Billy and Borja were district and region champions.
Jordan Yost of Fairfax finished fifth at 171 pounds after winning district and region titles, and Hayfield's Shane Shumack (160), a Patriot District champion and Northern Region runner-up, took sixth.
<b>Halley Debuts for Cavs</b>
Shane Halley, a Lake Braddock graduate and a freshman on the University of Virginia baseball team, made a good first impression over the weekend, pitching a scoreless inning and recording his first collegiate hit. On Friday, Feb. 20, pitching the last inning of a 12-0 win over Bucknell, Halley struck out all three batters he faced, and on Sunday, Feb. 22, playing left field against Bucknell, Halley singled and later scored on a sacrifice fly as the Cavaliers cruised to an 11-1 win. Virginia improved to 5-0 this season with an 11-1 win over William & Mary on Tuesday. At Lake Braddock, Halley was a first team All-Patriot District and All-Northern Region pick three times and won two district and two region titles. In last year's region title game, Halley went 2-for-3 with a pair of doubles, three RBIs and two runs scored as the Bruins topped Chantilly, 9-6.
<b>State Gymnastics Notes</b>
At the Virginia AAA state gymnastics championships, which took place Feb. 13-14 at West Potomac High School, the Lake Braddock girls team finished seventh out of eight teams, while Robinson's Amanda Famiglietti and Lake Braddock's Emily Parillo were 11th and 17th, respectively, in the all-around competition. Famiglietti, who finished second in the Concorde District and third in the Northern Region, totaled 36.900 points and tied for 12th place on the balance beam with a score of 9.475. Parillo, the runner-up at last week's region meet and the Patriot District champion before that, totaled 35.725 points. Her best finish was a six-way tie for 17th (9.375) on vault. As a team, Lake Braddock accumulated 136.800 points to place 14.1 behind first-place Osbourn Park.
<b>Two Eagles Soar</b>
Edison's Tihut Degfae, Myah Hicks and Donelle Epps all posted first-place finishes over the weekend at George Mason University's Field House for the Northern Region track and field championships.
Degfae won the 1,000-meter run with a time of 2:30.10, besting Centreville's Dan Grimm by more than five seconds. Hicks won the girls 1,000 (3:04.31) and Epps captured the triple jump with a leap of 43 feet, 1 1/2 inches.
"I just felt really smooth," said Degfae, whose team was second to South Lakes with 54 points. "Getting [away from the pack] helped me keep my stride and I guess keep the tempo."
Leoule Degfae, Tihut's twin brother, placed third in the 3,200 and second in the 1,600.
Elsewhere, Lee's Anton Bowman was second in the long jump (21-02.50). Hayfield's Tyler Sturgill (shot put, 49-02.75), Justin Jefferson (55 dash, 6.61) and Nathan Joyce (300 dash, 36.49) all finished second.
<b>Paul VI Notes</b>
The Paul VI wrestling team competed in the National Preps tournament this past weekend in Bethlehem, Pa., as junior Sammy Ojjeh and senior Donald Baumgart each won three matches and junior Ben Pfotenhauer won two. Baumgart earned his 100th career victory and was one win away from earning All-American status.
Determined to send its seniors, Erick Green, Raven Barber, Dominic Sanders and Matt Richards, out on a winning note, the Paul VI boys basketball team earned a 58-46 win over St. John's on Friday, Feb. 20 in the team's final home game. Green, a Virginia Tech recruit had 24 points and Barber (Mount St. Mary's) added 14.
Senior Adam Kosna and freshman Peter Veltri joined the South-Central team for the Northern Virginia Scholastic Hockey League All-Star game played at the Ashburn Ice House on Wednesday, Feb. 18. South-Central beat the North-West team, 7-5, as Kosna scored the-game winning goal and Veltri added an assist.
<b>SoccerTots Wanted</b>
SoccerTots is a physical development program for children that uses a variety of fun games to delight and engage children in physical activity. The group's spring session starts the week of March 9. Classes are professionally designed to develop motor skills, promote physical fitness and create self confidence. SoccerTots stresses a non-competitive environment and promotes fun above all else. The instructor-to-student ratio is kept small to maximize individual development. To view times or to register, visit www.SoccerTotsVa.com or call 703-953-1667.
<b>Football Summer Camp</b>
The NOVA "NFL" Youth Flag Football League will conduct its 12th annual Flag Football Summer Camp in Ashburn the week of June 22-26. A second week will take place Aug. 3-7. Both camps run from 9 a.m. until noon for children ages 6 to 12. The camps, aimed at teaching football in a fun environment, will feature experienced adult head coaches as instructors, local high school and college football players as camp counselors and visits by current and former Washington Redskins and other guest speakers. The camps will conclude with end-of-the-week flag football games and a speed, power and agility training session performed by certified fitness instructors from Dynamic Sports Performance. Visits by current and former Washington Redskins players and other guest speakers are planned. To register, visit www.novaflag.com.