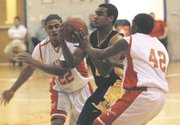 Take a straw poll these days at Hayfield Secondary School and it's unlikely too many folks are all that upset that the Hawks will switch from the Patriot to the National District starting with the 2009-10 season.
Just don't think that boys basketball coach Ron Palmer is one of them.
Palmer will miss the nightly challenges that
the Patriot provides, grind-it-out games in which each basket is contested and marquee matchups when the second-year coach knows that he only needs to break the pre-game huddle and clap his hands. Players already know what's at stake.
"We're moving out of it, and I kind of hate that because I do love the competition," Palmer said. "I don't want to play a lot of games when you have a 70 percent chance where you know you're going to win the ballgame."
Having won 609 games and a California state title at Long Beach Poly, Palmer flopped down into a folding chair after the Hawks' most recent win, a brutally physical 50-45 victory over Lake Braddock on Tuesday night. The 70-year-old Palmer was tired.
He'll miss games like Tuesday night. Games where his team had the lead for more than three quarters and twice had the Bruins down by seven, but still couldn't put Lake Braddock away.
"I thought the kids fought through some adversity and showed their character, which is important if you're going to do well later in the year," said Palmer, whose team is 9-2 overall, 3-0 in district play. The Hawks will travel to face Lee on Friday night.
<b>PALMER RETURNED</b> eight players who played significant minutes from last year's 14-8 team and their experience, according to Palmer, has been the primary reason for Hayfield's successful start.
The only "stumbling block" that the team has faced came at the Mount Vernon Holiday Invitational Tournament during the winter break, when Hayfield's players started to disappear and Palmer was forced to juggle his substitution patterns.
One of the key returners from last year's team, junior guard Brandon Winbush, was previously scheduled to take a flight overseas to visit his mother, a commanding officer in the armed forces. Though the team knew about the trip, it didn't make it any easier to take with what was about to happen.
Senior Laurent Newsome, the Hawks' dominant inside presence, had to miss two games and five practices because of a family emergency.
To make matters worse, Hayfield lost its first game in the tournament to Eastlake High School of California and during the contest junior point guard Rayshawn Riggans was ejected, prompting a suspension for the following game, a loss to Fairfax.
"This is the best team that I've played with since I've been in high school," said senior T.J. Wilson, who finished with nine points. "I couldn't have picked a better group of guys to play with. It just clicks with us. We have that chemistry."
"It's more of a team this year," said Winbush, comparing the 2008-09 Hawks to those of previous seasons. Winbush scored a team-high 13 points.
<b>HAYFIELD TOPPED</b> Lake Braddock mostly by limiting the Bruins' best player, Dominic Morra, to 29 points, including four 3-pointers. Palmer called for a box-and-one system, with Chad Canady guarding Morra while receiving occasional help from the zone defense around him.
The team expected Morra to light up the score sheet, as he's averaging more than 30 points per contest so far this season. Canady and Co. just didn't want Morra to take control of the game, which the Hawks started to do with less than two minutes remaining.
With 1 minute, 51 seconds to play and Winbush at the free throw line, Hayfield started a stretch, closing the game by making 12 of 14 free throws.
"Free throws are always important, especially in the fourth quarter," Canady said.
Count Palmer impressed. He hadn't even gotten around to harping on his team's free throw shooting, which he admits wasn't all that spectacular. Palmer was simply trying to navigate a difficult schedule without a few of his best players in what would be the Hawks' final Patriot season.
"Basketball is unpredictable," Palmer said. "I don't know how the kids are going to play from game to game, but I know what we're capable of.
"The good thing about this team is that we don't have to depend on one person because there's always someone stepping up, and that's a good sign of how strong your team can be."