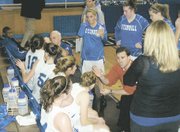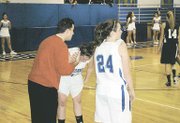 His players may not remember when their basketball careers began to turn around, but Bishop O'Connell girl's basketball coach Jimmy Brown knows the exact moment he finally saw the light at the end of a seemingly endless tunnel.
The Knights were playing WCAC rival St. John's at the end of last season when Brown made the decision to play five guards at once. The Knights, in the midst of a five-win season, were down 19 points with just five minutes to go, but the unorthodox lineup went on a furious comeback, cutting the lead to two with just seconds remaining.
Like many games last season, the Knights came up just short, but the foundation for this year had been laid. With all five of those guards returning this seasons, O'Connell already has more wins (nine) than it did in the past two seasons and it has everything to do with the perseverance of a team that could have given up a long time ago.
"They stuck through it when they could've quit, when people were telling them their coach stinks, and now they've built something for the future," said Brown after his team improved to 9-4 this year with an 84-63 win over St. Mary's Ryken Monday night.
<b>THE FIVE-GUARD LINEUP</b>, while lacking in size against some teams, has given O'Connell quite the array of offensive weapons. In the Knights' nine wins, they are averaging more than 72 points per game and are one of the best 3-point shooting teams in the metropolitan area. Just on Monday, O'Connell made 13 3-pointers.
"I think every single one of us can shoot a 3-pointer," said senior guard Kelly Horvath. "We rely on it."
Against St. Mary's Ryken, the Knights had five players score in double figures, led by senior Meg Lagos, who 22 points and six 3-pointers. Horvath added 13 points and 11 rebounds, while senior Sarah Jones had 18 points.
The win was soothing for the team, which had hit its first speed bump of the season. The Knights were on a three-game losing streak entering Monday, but with a new lineup and some newfound confidence, long periods of winless basketball appear to be a thing of the past.
<b>BROWN</b> made it a point during the offseason to show the team several motivational videos about various teams that have turned things around from one season to the next. In particular, he had the girls watch footage of the 2001 New England Patriots, who won a Super Bowl behind back-up quarterback Tom Brady after finishing 5-11.
"We kept telling them things can change from one year to the next," said Brown. "The biggest problem is they'd heard the same thing from me but they finally believed it, won some games early, and got some confidence."
Now the girls have their sights set on changing the culture around O'Connell girl's basketball even more. The Knights haven't won the WCAC since 1994 and haven't been in contention for the Catholic state title since 1989. They may not win either again this year, but it will certainly be more fun to watch this time around.
"I think this year the team is a lot closer than past ones," said senior Shannon Tumelty. "This is the year we surprise some people."