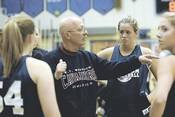 <b>Searching for Players</b>
The Lee-Mount Vernon Soccer Association (LMVSA) Patriots, a boys U-10 NCSL team, is looking for talented and motivated players, born after Aug. 1, 1998. This is a team of boys who love soccer and have been successful over their first two seasons together, including several tournament wins. The team offers a year-round training program in a competitive, educational and fun environment. If interested, drop by one of the team's training sessions on Jan. 21 or 28 and Feb. 4 or 11 from 6-7:30 p.m. at Bucknell Elementary School, 6925 University Drive, Alexandria. Contact coach Karl Rosenberg at krosenberg@extron.com for more details.
<b>Mason Continues Winning Ways</b>
The George Mason men's basketball team continued its historic and torrid start to the season with a 71-57 home win Jan. 17 over James Madison University. Mason has now won 23 of its past 24 games at the Patriot Center. With a 14-3 overall record (7-0 in Colonial Athletic Association play), the Patriots have matched their best start in school history, set during the 1983-84 season. The win over James Madison stretched the team's winning streak over the Dukes to 10 games, and, for the ninth time this year, Mason held an opponent to less than 40 percent shooting (31.6 percent) and fewer than 60 points. Mason travels to Northeastern tonight.
<b>Haskins Helps Hokies</b>
The Virginia Tech women's basketball team started the 2008-09 season at 5-0 and West Springfield graduate Laura Haskins was one of the primary reasons why. Haskins has continued to excel under coach Beth Dunkenberger, but the Hokies have hit a bit of a rough patch, losing three straight Atlantic Coast Conference games to fall to 8-8 overall, 0-3 in the ACC.
A senior guard, Haskins leads the Hokies in both steals per game (2.3) and assists per game (4.4). She is one of only three players to have started all of the team's 16 contests and she's averaging 5.1 points per game and logs an average of 31.3 minutes a night — second on the team. At West Springfield, Haskins helped the Spartans to four Patriot District titles and two Northern Region crowns. She averaged 13.5 points, 7.5 rebounds, six assists and four steals per game during her senior year and was named second team All-State.
<b>Jones Wins Twice at Virginia</b>
University of Virginia wrestler Brett Jones, a Robinson graduate, needed only 2 minutes, 32 seconds to pin Brett Pritz of Appalachian State during a 35-9 victory on Sunday. It was his team-best 10th fall of the season. The 197-pound Jones, a junior, earned a 15-9 decision over UNC-Greensboro's Jeremy Cannon and a 10-1 major decision over Karim Mahmoud of Rutgers this past weekend as well. As a sophomore last year, Jones accumulated 14 falls, which gave him the second-best such mark in school history. He won the 211-pound title at the University National Freestyle Championships last April, earning an automatic bid to the U.S. Olympic Team Trials. There, Jones won his first match before suffering two straight losses. At Robinson, Jones won a Virginia AAA state title and placed at the state level all four years. He was also a two-time All-State selection for football.
<b>Cavs Bitten by Injury Bug</b>
During its run to the Virginia AAA state quarterfinals last season, the W.T. Woodson girls basketball team had been lucky enough to avoid any serious injuries. This season, things have changed.
Senior guard Leah Bonuccelli suffered a leg injury during the Mardela Holiday Tournament in Salisbury, Md. and Kalli Baer, a senior guard who assumed Bonuccelli's starting spot, broke her nose in two places during a 54-42 loss to South Lakes on Jan. 9.
"Last year, we were fortunate not to have any injuries, but this year it's caught up to us a little bit," said Cavaliers coach Pat Neri, who saw his team reach the Liberty District semifinals and Northern Region finals last season.
"That sets you back a little bit trying to get other kids to fill in," added Neri, whose Cavaliers are 7-7 overall, 4-2 in the Liberty District.
W.T. Woodson suffered a 41-28 home loss to Langley Friday, Jan. 16, with Baer wearing a protective mask and the team shooting a combined 22 percent. Bonuccelli has since returned to practice and Neri hopes to have her available for Wednesday night's game at Madison.
"We're working hard and we're very committed to competing for the district," the fourth-year coach said.
<b>W.T. Woodson Hopes to Shake Slump</b>
Fourth-year coach Doug Craig doesn't mind using a cliché or two when describing his team's regular season and comparing it to the upcoming Liberty District playoffs.
"It's just a long process," said Craig, whose W.T. Woodson boys basketball squad has lost two straight after winning six of its previous seven games.
"We've been in a bit of a shooting slump the last couple of weeks, but that comes and goes throughout the course of a season," Craig said. "You want to be the best team you can be in February, so we're still working toward that."
The Cavaliers fell to 8-6 overall, 4-2 in district play with a pair of losses last week to Jefferson and Langley by a total of three points.
Dylan Robeson knocked down four 3-pointers against Langley and is shooting better than 50 percent from long range this season. Stephen Stepka, meanwhile, poured in a team-high 17 points against the Saxons.
"We just have to find a way to get back on track," Craig said. W.T. Woodson plays host to Madison Wednesday night.
"Fourteen games with an eight-team district, that's a long time," the coach said. "One or two losses won't kill you."