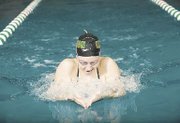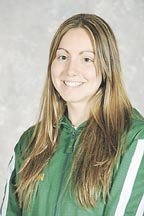 Northern Virginia Swim League is a league that fosters having fun and being with friends, which even applies to swimmers who have All-American accolades and Division-I university records.
Ashley Danner, who just finished her freshman year at George Mason University, earned honorable mention All-American honors in the 100-yard breaststroke, among others this year. Still, she has decided to swim her final season in the NVSL for the Kings Ridge Water Wizards.
For her final summer season, Danner wanted to have fun. She wasn't sure if anyone her age at her previous pool was going to swim again this summer, so she switched to Kings Ridge, where one of her close friends, Robinson graduate Amanda Kendall, swims.
"I thought it would be fun, especially to be on a relay with her," Danner said.
The pair's parents are close as well, and Kendall said that they travel to away meets together and room together, even though they are on different club teams. Not only are the two good friends, they provide stiff competition for each other as well.
Kendall won a Virginia AAA state title in the 50-yard freestyle four years in a row and earned All-American honors as well.
"I like racing Ashley," Kendall said. "It gives me an edge."
<b>DANNER'S FAVORITE</b> summer league events are the 50-meter breaststroke and the 100-meter individual medley, while Kendall prefers the sprint freestyle and butterfly.
"They both have a great desire to compete and a great desire to win," said Kings Ridge co-head coach Cody Kendall. "They compete within themselves and push each other. It's good for younger kids to see them and aspire to them."
He said that Kendall has been a vocal team leader since around the age of 13. It's been harder for Danner since it's her first year on the team, but still she's managed to fit in nicely.
"Back on my old team, some of the younger kids would come up to me and ask me stuff," Danner said. "With this team, there's already people who've been here their whole swimming career and kids look up to them more."
For her final season, Danner wants to set one more record. She has her sights set on the 50-meter freestyle. On Saturday, her time was only .3 seconds off, as she finished with a breezy 26.74.
The Lake Braddock graduate and Springfield native currently holds six records, including the 11-12 and 13-14 50 freestyle, the 11-12 and 15-18 50 breaststroke and the 13-14 and 15-18 100 individual medley.
Danner got her start in the NVSL at the age of 9. She began swimming just because one of her friends from school was on the team, and Danner thought that it would be a fun way to hang out with her during the summer.
<b>FROM THERE,</b> her summer coach told her about the Victor Swim Club, which Danner swam with all the way through high school. Danner tries to practice at least eight times per week. Most of the week she spends with Victor, but she enjoys going to Kings Ridge's pep rallies on Fridays and spends her weekends focusing on NVSL meets.
Although most weekends during the summer are spent at local pools, from July 7-11, Danner will compete at the national level, swimming at the ConocoPhillips USA Swimming National Championships.
If she records a top-two finish there, she'll advance to the world championships in Rome.
"It will be fun to go race with all the faster, more experienced people," Danner said.
Danner will look to build on her accomplishments at Mason where she was named the Colonial Athletic Association's Rookie Swimmer of the Year after winning the 100 breaststroke, 200 breaststroke and 200 individual medley at the conference meet. She also set school, meet and CAA records in those events. Danner also holds the 400 individual medley record for Mason.
"The year went pretty well," Danner said. "I was really happy with everything. I got best times in basically everything. It was a different atmosphere, but I really liked it."