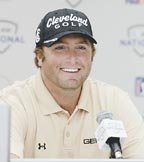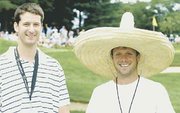 It had already been a rough start for Fairfax native Steve Marino and his crowd of supporters, when the W.T. Woodson graduate stepped to the tee of the par-3 seventh hole at Congressional Country Club Sunday for the final round of the AT&T National.
After carding a 2-under 68 on Saturday, leaving himself just six shots back of the leaders, Marino had slid out of contention through six holes with two bogeys and a double bogey.
Just when it seemed things couldn't get worse, the cruel nature of golf decided to rear its ugly head. Marino's tee shot was hit so precisely, it hit the flagstick. But the ricochet caused the ball to roll off the green, some 40 feet away from the hole.
"Sometimes it goes like that," said Kevin O'Connell, one of Marino's teammates from their golfing days at the University of Virginia. O'Connell grew up in nearby Potomac and played host to his friend and fellow PGA pro Marc Turnesa at his family's home this week. "When it goes south, it goes south quick."
<b>BUT TRY</b> being in the shoes of Marino's mother, Fran Marino. Not only did she walk all 18 holes every day of last week's AT&T National, she winced, groaned and cheered through every shot her son took.
But on the par-5 ninth hole Sunday, as she watched her son play conservatively and lay up rather than go for the green in two shots, Fran Marino couldn't help but think back more than 10 years earlier, when she was at Congressional with her son for one of his first rounds on the course.
It was the 1997 U.S. Open, and a 17-year-old Steve Marino and his mother had come to watch a new golfing phenomenon named Tiger Woods play a practice round.
"We got really close to him never dreaming [Steve] would be one of them," said Fran Marino, as she watched her son bogey the ninth hole after a chip shot rolled from the green back down to his feet. "This is his third year and sometimes it's still surreal when you realize that you're watching him on the PGA Tour."
His father, Steve Marino Sr., views his son's golf game a little differently. Himself a scratch golfer, he tries to get inside his son's head while walking the course. He analyzes club decisions and tries to determine what shot he would take if he were in the same situation.
"I play the game, so I know what he's doing, I know what kind of shots he's going to take," said Steve Marino, Sr., as he tried to will his son out of his funk on the front nine Sunday.
The family affair went even deeper, though. Accompanying the gaggle of Steve Marino Jr.'s friends was Steve's younger brother, Scott Marino. Also an accomplished golfer, Scott Marino played for James Madison University. This summer, he lost in the second round of match play in the 2009 Virginia Amateur and will play in an important regional event, the Eastern Amateur Championship, July 6-9 in Portsmouth.
"It's fun to follow Steve and hang out with his friends," Scott Marino said during the first round on July 2. When asked about his future in golf, he swept his arm about and said, "I'd like to give this a shot."
<b>BUT JUST BECAUSE</b> there wasn't much to cheer, doesn't mean Marino's friends simply threw in the towel when it came to having fun. After Steve Marino Jr. shot a 3-over 73 in Thursday's first round, some worried whether he would make it to the weekend rounds. So at his home Thursday night, O'Connell made a bet.
"I told him if he made the cut for the weekend, that I'd wear this out," said O'Connell Sunday, pointing to a giant straw sombrero on top of his head. "He made the cut, so I had to wear it today. But it's not giving him any good luck."
What made things worse was Steve Marino Jr.'s playing partner on Sunday. While Marino floundered, Hunter Mahan was in the process of tying a course record, shooting an 8-under 62 that left him in second place behind Woods, the tournament's host, when all was said and done.
But there would be no such heroics for Steve Marino Jr. on Sunday, ending his round with a 6-over 76. Following another bogey on the par-4 11th hole, the lone bright spot for Marino was a birdie on the par-4 15th hole. After he sunk the 15-foot putt, he simply looked up at the sky in exasperation.
"To be honest with you, I don't feel like I really played that bad," said Steve Marino Jr., as he chatted with his mom and some friends on the putting green after earning a $24,000 check for finishing tied for 40th. "I just got some terrible breaks. … You want to play good in front of your family and friends, and when you play like crap it kind of sucks."
Not that it bothered his crowd all that much. With the AT&T National leaving the area for Philadelphia the next two years, his friends and family were savoring every last moment with Fairfax's PGA pro.
"It's obviously frustrating for all of us," said Matt Duffy, Marino's junior year roommate at Virginia. "I think this tournament meant a lot to him, but an hour later, he'll be the same old laid back Steve Marino."
<i>Special correspondent Michael K. Bohn contributed to this article.</i>