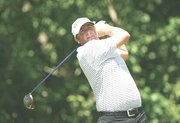 It's a mundane ritual for most golf pros during their practice rounds, signing autographs for children lining the golf course, many of whom aren't sure whose signature they're getting unless it reads "Tiger Woods."
But as Fairfax native Steve Marino played nine holes Tuesday in advance of this week's Washington, D.C. area PGA Tour stop, the AT&T National at Congressional Country Club in Bethesda, Md., he made it a point to autograph anything and everything, whether that meant a shirt, a towel or even someone's back. And he did so with a giant smile on his face.
Marino was thinking back to his not so distant past, when he was one of those local children at the now-defunct Kemper Open, longing to be one of the professionals.
"I'd love going out there to watch it," said Marino, a W.T. Woodson graduate. "I'd come back home and try to imitate people's swings. Now that I'm actually out here, it's a little bit different than I thought it would be, but it's awesome. It's so much fun, I'm having a blast."
For the 29-year-old, his latest homecoming to the area has been one to remember. Marino is currently enjoying his finest year on the PGA Tour, already with three top-10 showings this season, including a second-place finish at the Crowne Plaza Invitational in May. He lost in a playoff to Steve Stricker.
In the process, Marino has vaulted himself to No. 72 on the world golf rankings and currently sits 28th on the 2009 PGA money list with more than $1.4 million in earnings.
<b>HE'D LOVE</b> TO get that elusive first professional win at this week's AT&T National, where he'll be surrounded by friends and family. At last year's AT&T National, Marino, the 1999 Virginia State Amateur champion, carded a first round 5-under par 65 and led the tournament heading into Friday's second round.
Though Marino faded down the stretch, finishing T-24th with a 4-under par score, he, or more accurately, his fans left a lasting impression.
A collection of alcohol-aided friends from W.T. Woodson High School, some tag-a-longs from his playing days at the University of Virginia, and some golfing buddies became the talk of the course, injecting the pristine country club with some much needed Happy Gilmore-esque flair.
"It's like a party out here for them," said Marino on Tuesday, in between signing autographs for the masses. "They come out here, drink beer, get drunk, get loud and they really enjoy themselves, which is what this is all about. You want the fans to come out here and have fun. I think my friends might take that to another level, but they're having fun and it makes it fun for everybody."
His local roots go even deeper, though. At last year's AT&T National, he brought on longtime friend and Oakton graduate G.W. Cable to be his caddy. He has kept him on the bag ever since.
This week, Marino said he's staying with the family of one of those friends, in a nearby Potomac home, rather than coming back to Fairfax. He may reside in Palm Beach Gardens, Fla., these days, but his memory of Beltway traffic hasn't faded away.
<b>ASIDE FROM GOLF,</b> Marino plans to catch up with some friends he hasn't seen in awhile, maybe play some pick-up basketball like they used to during high school.
But his focus will be squarely on winning this year's AT&T National, which features a loaded field with top players like Tiger Woods, defending champion Anthony Kim, Jim Furyk, Mike Weir and Lucas Glover in the mix. The total purse for the event is $6 million, the winner taking home $1.08 million.
Marino's long, accurate driver -- he's currently T-18th on the tour in total driving -- and strong first round a year ago have cemented him as a trendy dark horse pick to take home the trophy this year. It would be a fitting end to the week since the 2009 AT&T National is the D.C. area's last professional golf tournament until the 2011 U.S. Open comes to Congressional.
Not that Marino is putting much pressure on himself, he's just enjoying the moment, being back in town riding a wave of success he always dreamed about.
"I don't really have any expectations for this week, I just want to go out and have fun and do the best I can," said Marino. "I just feel like I've been getting a little bit better every year in pretty much all aspects of the game. It's the best time of my life right now."