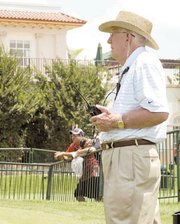 A gallery of thousands followed Tiger Woods during last weekend's AT&T National at Congressional Country Club in Bethesda, Md., as miles of rope and a squad of security officials kept the enthusiastic crowd at bay.
Yet Ashburn resident Dick Cummings, a tournament volunteer, walked shoulder-to-shoulder with Woods throughout each round; talk about up close and personal with the world's most famous athlete.
Cummings is the co-chairman of the event's 850 marshals -- the volunteers who keep order on the golf course.
"Our job is to promote harmony between the players and the fans," Cummings said. "I want all the marshals to be ambassadors of the game, just like the people who represent the United States."
A retired federal government employee, Cummings works year-round on preparing for the tournament. He draws upon years of experience as volunteer at the old Kemper Open at Congressional and nearby TPC at Avenel, the 1985 Senior Open and 1997 U.S. Open at Congressional, the Booz Allen Classic, and three Presidents Cups.
Twenty-three area golf clubs and two organizations contribute marshals, often with one club marshaling the same hole every year. Cummings organizes training sessions and buzzes about the course during the tournament as he checks in with each hole captain.
Additionally, whenever Woods is on the course, Cummings helps part the crowd as he moves from hole to hole. All of the policemen, PGA Tour security officials and secondary marshals follow in Cummings' wake.
During Woods' question-and-answer session and exhibition for children last Tuesday, June 30, Cummings helped Woods navigate the venue. He stood with Woods at the tournament's grand opening during Wednesday's pro-am, marveling with Woods at the descent of the Army's Screaming Eagle parachute team.
"He is the most wonderful young man I have ever met," Cummings said of Woods. "He is courteous to everyone from the lowliest volunteer to his fellow superstars."
During the AT&T National, Cummings would leave his house between 4-5 a.m. and head down the Dulles Greenway, not to return until well after dark.
"My wife schedules a vacation for a week or two when I am working at the tournament," he said. "She knows that she'll never see me."
Cummings had retired as chief marshal in 2006 after the last Booz Allen Classic. The Tiger Woods Foundation, which runs the AT&T National, convinced Cummings to dust off his golf cart, tune up his walkie-talkie and return to the job.
"This is great fun," he said. "How can you walk away from a prestigious golf tournament at a prestigious golf course?"