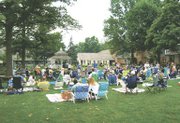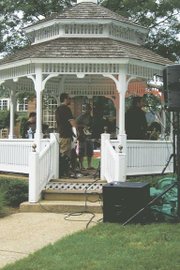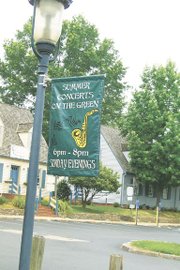 Great Falls Village Centre offers a pleasant way to enjoy the final minutes of a summer weekend: listening to some music, visiting with friends and neighbors and enjoying a picnic.
Every Sunday, from 6-8 p.m. from June 7 to July 26, the Great Falls Citizen's Association hosts a musician or musical group for a free outdoor concert on the Green.
Eric Knudsen of the Great Falls Citizen's Association said "usually we get around 200 people" at these outdoor concerts. "For a lot of local people, [the summer concerts] are just how they spend their Sunday evening", said Knudsen. His favorite aspect of the summer concerts is "the music itself," he said. "It's a nice way for the community to get together" in a casual setting.
Various local businesses rotate sponsoring the summer concerts. The June 28 concert featured a pop/rock artist Rew Smith. He performed a combination of original songs as well as some well-known covers. The Newcomers of Great Falls, Dominion Title and Great Falls Friends sponsored Rew Smith's performance.
The Newcomers of Great Falls is a social organization that helps both new residents of Great Falls and long-term residents become more active in the community through events such as the Summer Concerts on the Green. Dominion Title is a settlement company located in the heart of Great Falls. Great Falls Friends is an organization that focuses on the overall betterment of Great Falls as a community. It sponsors the Independence Day festivities as well as the Oct. 31 Fall Festival.
"We are here to benefit the community throughout the year," said Susan Canis, who is on the board of Great Falls Friends.
The Summer Concerts on the Green give Great Falls residents an opportunity to come together in a casual setting, relax, listen to some free music and enjoy the community of Great Falls.
"They give a home town feeling to Great Falls," Canis said, speaking on why she likes the Summer Concerts on the Green.