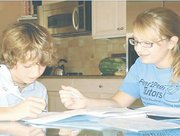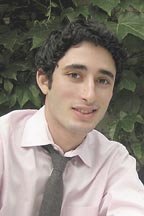 Starting a private business seems like the last thing on most high school seniors' minds as they are bombarded with school assignments, pressure to get into college, extracurricular activities and their struggle to maintain social relationships with peers. However, Erik Kimel began his own tutoring company in the midst of all of that chaos January 2004 as a senior at Churchill, not knowing how far it could take him. His company flourished and by the time he graduated that June, the business had 25 tutors and 40 clients in the Churchill cluster.
Peer2Peer Tutors has blossomed into the best tutoring company in the area as voted by Bethesda Magazine in 2008. It currently employs approximately 200 tutors for about 300 clients, five Management Operational Mentors (MOMs) and two human resources coordinators. Its clients are scattered throughout Montgomery, Howard and Fairfax Counties and Washington D.C.
Now, founder and president of Peer2Peer Tutors, Kimel, is running a half-day summer enrichment camp at the organization's Rockville office from Aug. 24-28. The camp is designed to help students finish their math packets, summer reading assignments, establish study skills and perfect their note taking techniques. The tutors are top achieving high school and college students living in the area.
"I always try to put myself in the shoes of the students I serve. If students feel confident about what they are getting into before school even begins, they will do a whole lot better," Kimel, 22, said. The overall mission of the camp and company according to Peer2PeerTutors.com is to give students "the knowledge and confidence to achieve their goals."
KIMEL'S PLAN to begin the company originated from his idea that students learn best from other students, or peers. This occurred one day in AP Calculus class during his senior year when he realized how bright and cool his fellow classmates were. Immediately afterwards, Kimel put an advertisement in a local newspaper volunteering himself for individual tutoring sessions.
After discovering it would be too difficult to do all of the tutoring alone, while simultaneously running the company, Kimel began recruiting his friends from calculus class to become tutors.
"It has been a real passion of mine to help empower students," Kimel said. "A student's first-hand knowledge and ability to relate to another student as a peer is a tremendous advantage because the tutor can make the learning fun and cool." Kimel's tutors try to become role models to the clients in addition to helping them academically.
Once he had classmates to help lighten the tutoring load, Kimel became more involved with the methods of matching tutors and clients, and then started employing ex-teachers and parents of clients to become MOMs, or scheduling liaisons, his freshman year of college.
This allowed Kimel to be a student when he went off to college at NYU in fall 2004 and keep the program running back home. Managing Peer2Peer Tutors has become Kimel's full time job since he graduated college in 2008.
"Eric is wonderful to work for," said Susan Clarkson, MOM for the Wootton and Churchill clusters of Peer2Peers. "He is on top of so much: he networks well to get the word out about the company, sets a great tone, is accessible, and has a contagious passion for the company."
As a MOM, Clarkson's responsibilities include scheduling tutors, providing them training and talking with clients about the program. When pairing tutors and clients, she analyzes the client's preferences in subject, tutor's age range and gender.
"You teach, but you also learn," said former Peer2Peer summer camp employee Mark Hannallah, 18, who has been a Peer2Peer tutor since his sophomore year. "If you can teach something, you really understand it a lot better. There are some areas where I struggled when I first learned them, but having to teach that subjects hammers in the information much better."
HANNALLAH, WHO graduated from Churchill this June and will attend Tulane in the fall, believes that the communication and networking among students is one aspect that makes the company so successful. He says that when you tutor, you tell your friends about it, and then they want to become tutors, too.
Kimel says that when he was tutored as a student, it was not fun because it was too similar to school and his teacher was not able to develop a relationship with him. Unlike his tutor, Kimel feels the strength of his company is the tutors' ability to relate with their clients.
"We are young and have experienced first-hand the same classes and teachers as the students we tutor," Kimel said. "It makes the learning process much easier."
Peer2Peer Tutors usually reaches students at points where they need extra help. As a former tutor, Kimel explains that when the student brings home his first "A" in a subject where he previously struggled, it feels incredible. Aside from academics, he feels that just getting to know the student is always fun and trying to connect what she is learning in class to her interests can make the tutoring very effective.