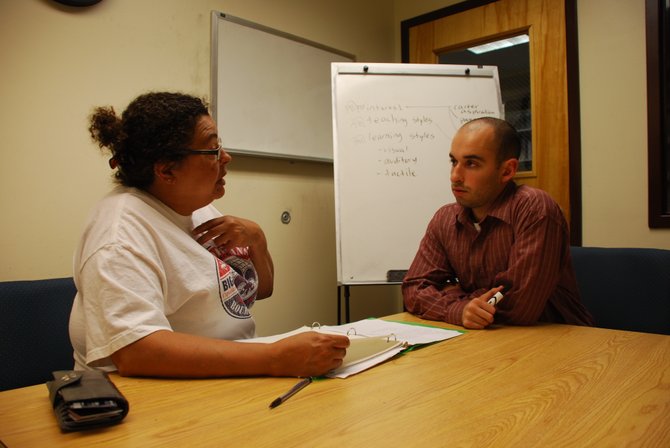 Lake Braddock Graduate Starts Tutoring Company for Special Education
When JS Tutoring folded in 2012, one of Arlington resident Brian Katkin's students with a learning disability wanted to keep having sessions with him. They worked out an arrangement to continue working together, and soon Katkin decided to take on other students as well. Then on the first day of Spring Break the same year, he launched the company Up to Speed Tutors, with himself as the sole instructor.
Vienna resident Ronettee Hicks is that original student from JS. A middle age Navy veteran with dyslexia, among other learning disabilities, she never progressed further than a seventh grade education. Now with Katkin's help, she's pursuing a two-year degree in hospitality management and plans to open her own bed and breakfast.
Even with those goals, "Success for me is just the learning," said Hicks. "It's not about failing or passing. The final [exam], I want to pass, but I'm learning a lot more than I did before."
Katkin is getting her there using a personal, professional approach. "I like that he's patient," said Hicks. "He takes the time to show me how exactly—I had no knowledge of how to write a paper, or put a sentence in the correct tense."
This strong student-tutor relationship seems like a snapshot of a young but thriving company, however owning a tutoring business wasn't initially part of Katkin's plan.
CURRENTLY KICKING OFF his third year as a full-time learning disability teacher at Lake Braddock Secondary School, Katkin is in his late 20s and on his second career.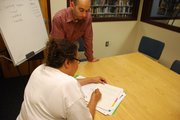 After growing up in Burke and graduating from Lake Braddock, Katkin received a degree in journalism and Spanish from the University of Maryland. He interned for USA Today covering sports—a young athlete-writer's dream job, theoretically—and then reported for the Legal Times in Washington, D.C.—in 2008. As the late nights of rush deadlines and depressing story assignments added up, Katkin felt less and less fulfilled.
"I like coming home when the sun is still up," he said. "It's hard to get up and go to work in the morning when you're reporting on layoffs."
Katkin decided to fall back on teaching. Having been a soccer and basketball coach for BRYC, as well as a teaching assistant for freshman level journalism classes and history at Maryland, he experienced some 20/20 hindsight. "I loved it. I look back and think maybe I should've gone for education."
Returning to Fairfax from College Park, Katkin enrolled in an education master's program at George Mason University, concentrating on English. He took a class on special education teaching to fulfill an elective requirement, and quickly developed a keen interest in learning disabilities. With a budding passion, he pursued numerous substitute opportunities in Fairfax County Public Schools learning disability classrooms.
"I really enjoyed working with those kids," said Katkin. "They're all really creative, with a lot of personality. It's something I got a lot of energy from. I was definitely not going to rule out special education, even though my concentration was English."
Keeping his options open led to steady employment for Katkin: He accepted an offer to work as a learning disability teacher at Annandale High School in August 2010. And looking to supplement his faculty salary, he sought additional work as a tutor.
Unfortunately, in Katkin's opinion, most tutoring companies don't offer the necessary, comprehensive support that students with learning disabilities require to have success. "What frustrated me," he said, "was a lot of them have special education as another subject like English or math. But it's more of an understanding of how to modify content, make it more accessible to students."
For six months he did find JS Academy suitable to work for, and took away some valuable observations of their ultimately flawed business model. They offered a great service for learning disabled students; however they operated out of several commercial locations. It didn't surprise Katkin they couldn't make ends meet, but the idea of a tutoring company still intrigued him.
He also saw a dire need in the learning disabled community. After JS went under, Katkin determined there were no other learning disabled-focused tutoring company options in the Fairfax County area. And now, he said, "there's no more modified diploma. They need to pass their SOLs in high school in Northern Virginia. They need extra help. I just didn't feel like there was enough out there for them."
With just about a year and a half in the books, Up to Speed
TUTORS currently employs 17 independent contract tutors—mostly teachers, all professionally licensed, by Katkin's requirement—servicing 22 student clients. Though the majority is in high school, the students range from second graders to middle age. Tutors go to the students, eliminating need for a central office, and students pay per session with no long-term commitments required.
Katkin puts in 20 hours a week on top of his full-time teaching load. Out of his apartment he runs the day-to-day administration, making sure everything goes smoothly with automatic bill-pay, electronic progress reports and tutor evaluations. Somehow, the initial curiosity has led to continued motivation. "It's like a hobby," he said. "Some people like to play video games or sports, and I like those things, don't get me wrong. But when something is yours, you want to grow it as much as possible, see where it goes."
At its current size, Katkin can ensure his personality and professionalism permeate the business. "We're small enough," he said, "I want the clients to know I'm here. My number is on the website. You don't see an 'info@updtospeedtutors.com.' I like the fact that it's personal."
It's clear the students do as well.