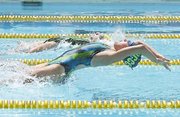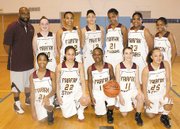 <b>Division Camps</b>
The Hidden Creek Hurricanes finished the season as divisional champions in the Dominion Country Club Swim League, closing out the season undefeated in divisional meets with a 329-186 victory over Mount Vernon Country Club. Sierra Jeter and Tiger Barbee both won four individual events on Saturday, July 18 and were named the Hurricanes' Most Valuable Swimmers in the 11-12-year-old girls' and 13-14 boys' age groups, respectively. Furthermore, Jeter set team records in all five individual events that she swam this summer, and Barbee set records in all four of the individual events she swam this season as well.
<b>Nationally Ranked</b>
The Fairfax Stars U-12 girls' basketball team recently traveled to Kingsport, Tenn. to compete against 64 teams from 27 states in the AAU National Championships. The team completed pool play with a 3-0 record and finished the tournament with a 4-2 record. Due to their excellent play, the Stars finished the year ranked 13th in the country. This is the second year in a row the team has made it to the tournament's round of 16.
<b>Fall Registration Now Open</b>
Herndon-Reston Youth Softball is a girls' fastpitch softball league serving players ages 6 to 18 in the greater Reston-Herndon area Fall registration is now open. To register, visit the organization's Web site at www.hrysfastpitch.com/Register.
<b>Senior Olympics</b>
Senior adults 50 years of age and over are eligible to enter the 2009 Northern Virginia Senior Olympics on Sept. 12-23. Participants must also live in one of the sponsoring jurisdictions. Registration information is available at local senior centers, community centers, senior residences or by calling 703-228-4721. Details can be downloaded online at www.novaseniorolympics.com. Registration deadline is Aug. 28. More than 25 indoor and outdoor events are offered and seniors may compete in more than one sport. Each event is divided into age categories. Registration fee is $10, which includes one event. Additional events are $1. Additional fees are charged for golf and bowling. Winners will be awarded gold, silver and bronze medals after each event. New events in 2009 are Wii bowling and mini javelin throw. Other events are track and field, swimming, diving, tennis, golf, table tennis, miniature golf, bowling, pickleball, racquetball, scrabble, ice skating, board games, card games, shuffleboard, men and women's basketball, team line dancing, yo-yo tricks, bait casting, eight ball pool, Frisbee throw, softball hit and throw and more.
<b>Rugby Included</b>
As part of the Coventry Commonwealth Games, Virginia Amateur Sports will welcome the Rugby Virginia Youth Rugby Tournament Aug. 1-2 at Franconia Park in Springfield. Frederic Bardot, the executive director of Rugby Virginia, will manage the event. The 2008 two-day tournament saw more than 30 youth teams compete in tag and contact rugby within U-9, U-11, U-13 and U-15 divisions. For more information on Rugby Virginia, visit www.rugbyvirginia.com. The Commonwealth Games have existed for 19 years and take place in Roanoke, with 161,000 athletes having participated throughout the event's history. This year, 10,000 athletes are expected to participate in 61 sports.
<b>Softball Tryouts</b>
The NoVa Blaze U-14 and U-16 travel fastpitch softball teams will host tryouts on Aug. 15-16 at Larry Graves Park in Falls Church from 11 a.m.-1 p.m. For more information, visit the organization's Web site at www.novablaze.org.