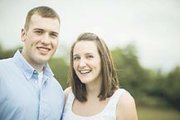 Mr. and Mrs. David Williams of Centreville are pleased to announce the engagement of their daughter, Kelli Elizabeth to Bryan Thomas Blank, son of Mr. and Mrs. Ray Blank of Centreville.
Miss Williams is a 2007 graduate of Johnson & Wales University with a degree in baking and pastry arts. She is currently attending New River Community College, Blacksburg, in pursuit of a business degree.
Mr. Blank is a ROTC student at Virginia Tech pursuing a major in psychology with a minor in business. Upon graduation this December he will commission as a Second Lieutenant in the United States Air Force.
A January 2010 wedding is planned at Lord of Life Lutheran Church in Clifton.