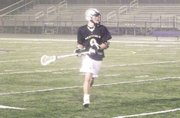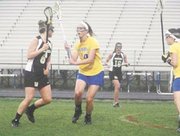 Two reasons could explain the different outcomes for Westfield's two lacrosse teams on a rainy Tuesday night in Fairfax. And while one is more black and white, producing a get-it-done-or-else assessment, the other has many, many different variables.
But regardless of any comparison between the two, the inability to control the draw for Westfield's girls' lacrosse team Tuesday night saddled the Bulldogs with an overtime loss, while an increased focus and intensity vaulted the boys' team into Friday's Concorde District title game.
In the first game of the night for the district semifinals, the third-seeded girls' team -- after an hour-long delay as school officials used squeegees to push water off the field -- suffered an 18-14 loss to No. 2 Robinson in overtime. Despite tying the score on an Amanda O'Sullivan goal with 19 seconds remaining, Westfield lost every overtime faceoff and was outscored, 4-0.
Nearly a half-hour later and down the road at Fairfax High School, the third-seeded Westfield boys' team was tied at 4 with No. 2 Robinson after three periods. And despite having a goal waved off with 9:12 left, Westfield rallied for two unanswered tallies in the final seven minutes and hung on for a 7-5 win.
"It felt like the clock wouldn't go down," said Westfield's Gage Hagen, who scored the Bulldogs' final goal with 6:25 left. Hagen and Co. will face Chantilly on Friday, which earned a 7-3 win over Oakton earlier in the evening.
"There was a lot of hype before this game," added Hagen. "We planned a lot and watched a lot of film. We were ready to come out and beat [Robinson]."
<b>FIRST-YEAR</b> coach Brian Dilley refused the credit. There are a lot of things he can do on the sideline, he said, but forcing his players to want to win isn't on that list. Indeed, Dilley spent the better part of his postgame interview praising the merits of his players, who took it upon themselves to erase the memory of a four-goal loss to Robinson on April 27.
"I can't coach motivation. I can't coach heart. But when they bring it, that's when we're good," said Dilley, whose squad improved to 7-6 on the year with the win. "I thought it would take a lot of work, and, as a testament to the kids, they've put in the work. They work hard, so my credit is to my team -- not to me."
Dilley also pointed out that the loss on April 27 came on a Monday. As most coaches will say, Monday games are especially hard to prepare for because all the game-planning must be done on Saturday. And with players in school all day, very little can be done before that first faceoff.
Practice on Monday afternoon was a much-needed breath of fresh air, Dilley said, and the effort against Robinson the second time around couldn't have been different than how it was at the end of April.
"We had an outstanding pregame practice," Dilley said. "They came ready, and they were focused and they were ready to go. I think it's a testament to my team and the captains.
"It's the playoffs, and I've been emphasizing that to the whole team. It's now one-and-done for us, and that's how they have to look at it. And they've been ready to go every time after that."
<b>WITH LESS</b> than 30 seconds remaining and her team trailing by a goal, O'Sullivan sloshed her way into the offensive zone. A spin move later, O'Sullivan netted her sixth goal of the game and produced a 14-14 tie.
But starting with the first overtime faceoff, Westfield suddenly couldn't gain control again. It wasn't any specific issue, rather just the sort of bad luck nobody wants during the overtime period of a playoff game.
"They won every draw," said Bulldogs coach Jim Dwyer, whose team dropped to 8-5 on the season. Westfield, with the Concorde's No. 3 seed, will play the loser of Friday's Liberty District title game between W.T. Woodson and Madison in the first round of the region tournament next Tuesday.
"You have to have possession," Dwyer added. "If you don't win the draw, there's a good chance you're not gonna score. You have to have the draw, and we didn't get it."
Besides O'Sullivan's six goals, Westfield got three tallies from Mary Barondess. Hanna Skahn had two goals, and Nicole Ficarra had a goal and an assist. Maddy Curry and junior attack Katie Sasek each scored once.