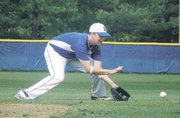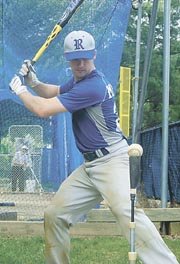 Last spring, Michael Del Bueno's family was forced to understand one of the basic precepts associated with Robinson's baseball program, which has consistently been one of the Northern Region's strongest, winning a region title in 2005 and Concorde District crowns in 2006 and 2007.
Del Bueno's family wanted to plan a trip to Easton, Pa. to visit his grandmother, and it just so happened that the dates picked fell on Memorial Day weekend. But for Robinson players and their families, those few days are traditionally a black hole when it comes to scheduling out-of-town trips.
A senior pitcher and infielder, Del Bueno realizes that a strong possibility exists for his team, which has been one of the last eight teams standing for the past three years, to still have practice or a game on Memorial Day. Whether grandma likes it or not, he's staying home to play baseball.
"They know baseball is a big deal. That's my life pretty much," said Del Bueno, of his family's acceptance that he would not be joining them, although the trip was eventually scrapped. "They know that if it comes to down to it, I'm picking baseball."
Though teams like Westfield, Chantilly, Lake Braddock and West Springfield, with a combined 62-12 record through Tuesday afternoon, appear likely to assume four of those eight slots, the remaining four are up for grabs.
"No matter how we play during the regular season, when tournament time comes, I think we are definitely one of the better teams around."
At 10-10 overall, 6-6 against Concorde District opponents, Robinson finds itself right in the middle of a crowded playoff picture. The Rams are scheduled to play Herndon in the district quarterfinals tonight. With a win, Robinson would achieve part of its goal by reaching the region tournament.
<b>WHILE DETWILER'S</b> focus has been on Memorial Day, for part of the year it appeared as if the Rams weren't going to make it to Mother's Day. Despite a 4-2 win over defending region champion Lake Braddock on April 14, Robinson tripped up against Centreville, who was 3-8 at the time, on April 22.
But as someone who played baseball at Chantilly from 1995-98 and has served as an assistant coach at Robinson since 2003, Detwiler is familiar with the competitiveness and quality of teams within the Northern Region, something he highlighted before practice on Monday afternoon.
"Beating a team with a good record and then losing to a team that's below .500, the records may be a lot different, but I don't think there's a lot of difference in the team, as funny as that sounds," said Detwiler, whose team has swept Fairfax and Herndon while splitting games with Centreville and Oakton this spring.
To further emphasize that point, Detwiler said that his team has played in four games this season that have been decided by a walk-off hit or homer. The Rams have won three and lost one. However, Detwiler said, it could've just as easily been the other way around.
Despite the up-and-down results, Robinson has been stabilized by senior catcher Chris McCloud, a Catholic University recruit who led the team with six home runs and 21 RBIs as of Wednesday morning. Rutger Floyd, a corner infielder, was hitting .470 with four homers, while Del Bueno had a team-high .475 batting average with eight stolen bases and 15 walks.
"Robinson is known as a tournament team, and, honestly, if we can get past this first game, I think we have a really good shot," McCloud said. "We have team goals. Number one is unity. Number two is playing on Memorial Day. The theory behind that is that if we get there, anything can happen. Whichever team we face, if we come out ready to play, anything can happen."