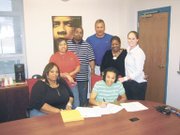 Minutes after T.C. Williams senior Khalia Boston had signed her letter of intent to play for Division-II Livingstone College in North Carolina Tuesday afternoon, her parents, Kevin Boston and Dionne Johnson, were asked whether they knew all along their daughter would get the chance to play college basketball. It elicited two very different responses.
"I didn't at first," said Johnson. "She was real girly girly at the beginning, playing with a lot of dolls."
"I did," said Kevin Boston. "She started putting those dolls down and grabbing a lot of basketballs pretty quick."
Whether it was inevitable or not, a smiling Boston sat in a conference room of the main office at T.C. Williams eating cake as she basked in the glow of knowing exactly where her future lay.
A 5-foot-6 guard, Boston helped lead the Titans all the way to the Northern Region finals this past season, earning a spot in the state quarterfinals as a result. She was second only to two-time All-American Tierra Ruffin-Pratt in scoring, averaging close to 12 points per game.
Because of her strong season, Boston was named first team all-Patriot District and third team all-Northern Region this past winter.
"Knowing that I could play at T.C. Williams, I knew I could play college, too," said Boston, who had offers from Division-I schools like Boise State and Southern Illinois, but elected to stay closer to home. "I think it will be better for me to start in a smaller atmosphere."
She'll also be about an hour and a half away from her old teammate, Ruffin-Pratt, who is signed on to play in nearby Chapel Hill for the University of North Carolina. While Ruffin-Pratt got much of the attention as one of the area's best girls' basketball players, Boston said her development into a legitimate college basketball player was due in large part to being around her talented teammate.
"Tierra helped me a lot," she said.
But T.C. Williams coach Cavanaugh Hagen will miss her two senior leaders. She said that while Boston's biggest strength is her "unconscious" outside shooting ability, it was her defense that separated her from other players in the region. She added that the style of play at Livingstone was a perfect match for Boston.
"I think I'm holding on to them pretty tightly," said Hagen of Boston and Ruffin-Pratt. "Life without them will be a completely different team. They made impacts right away as freshmen and it just kept building and building and building."