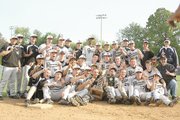 Since the Virginia Independent Schools Athletic Association first crowned a baseball champion in 1992, no Washington Catholic Athletic Conference team had ever hoisted the VISAA trophy after winning its own conference title too.
Until now.
With an 8-4 victory over Benedictine on Saturday, May 16 and a 4-3 win over Bishop-Ireton three days prior, Paul VI completed a weeklong journey that seventh-year coach Billy Emerson said "felt like a month."
Despite a 5-7 start, Paul VI (22-9) closed the year by winning 17 of its final 19 contests. On Monday, May 11, the originally-scheduled WCAC final was suspended after five innings because of rain. It was resumed two nights later but not before the team's VISAA tournament quarterfinal game on Tuesday.
"That two-inning finale seemed like it was 10 innings," Emerson said. "It was just such a relief and an outpouring of joy to be able to pull that off, especially after the start we had."
<b>BECAUSE ITS</b> field also supports junior varsity baseball and boys' and girls' lacrosse, Paul VI was hit even harder by the get-your-galoshes amount of rainfall this spring. The Panthers took batting practice outside exactly once before Easter and spent far too much time trying to a turn double plays from the three-point line.
But during a sunny Thursday, April 9, Emerson's squad was able to get some work in on its field. Six hours of it. That, coupled with the fact that the Panthers won the Southeastern Baseball Classic over their spring break trip, spurred a 17-2 finish to the 2009 campaign.
"We had a lot of catching up to do," said Emerson, of the marathon practice. In addition to an intra-squad game, Emerson ran the gamut that day, working on team defense, bunt defense, base-running and hitting.
"It helped us realize what kind of team we had, and that it really shouldn't be any different around here than it's been for the past five or six years," Emerson said. "We can do the same things we've done and more."
Those things are staggering. Since 2005, Paul VI has won 126 games. It has also won two of the past three WCAC titles and three of the past six VISAA crowns. By graduation, 38 Panthers will have gone on to play college baseball.
One of those soon-to-be players is Tyler Costello, a junior right-hander who went 6-4 this spring with a 2.78 ERA and 78 strikeouts. But it's arguable that Costello's greatest impact didn't come from the pitching rubber.
<b>WITH THE</b> continued game against Ireton restarted on Wednesday, May 13 with Paul VI trailing, 3-2, Costello was not even in the game — he was in limbo. If the Cardinals started the sixth inning with left-hander Luke Rabiej, Costello would pinch hit. If Paul VI faced a righty, Emerson would call on senior Charles Beacom.
When Rabiej started throwing, Emerson and his coaching staff knew they had guessed correctly. So Costello, who hit only his second home run of the season during a 9-4 win over O'Connell in the WCAC quarterfinals, grabbed a bat.
The first two pitches Rabiej threw were balls, and, with a 2-0 count, Costello cranked a right-down-Broadway fastball out of the park, tying the score. It the top of the seventh, it was Costello's sacrifice fly that pushed Paul VI ahead to stay, avenging last year's WCAC title game when Ireton upset Paul VI, 3-2.
Three days later, things didn't need to get quite so interesting. No rain came. The game ended on time and at the same place it started. Paul VI scored six times in the second inning, cruising to a four-run win.
"It's something that we've been trying to do for a long time," Emerson said, of the record-setting season. "We've had a lot of time where we've won one but not the other, but it sure is gratifying to win both."