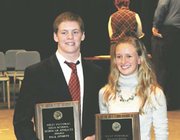 <b>McConville, Bigler Honored At Sports Banquet</b>
West Potomac football player Colin McConville and cross country runner Julianne Bigler each received a scholar athlete award at the school's sports banquet Tuesday.
<b>Mount Vernon Field Hockey Players Honored</b>
Six members of the Mount Vernon field hockey team received all-National District accolades for the 2009 season. Senior midfielders Marcy Hoath and Katie Lucas and senior forward Leia Schantz led the way as first-team selections. Hoath was also an all-region selection.
Seniors Gabby Gadson (defender) and Sara Duncan (goalkeeper) were second-team selections, and sophomore forward Allie Schray garnered honorable mention.