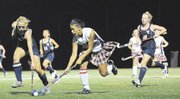 Two goals from junior midfielder Anjuli DeWakar helped assure T.C. Williams' 2009 season would continue. Meanwhile, Megan Boyle continued to show the future is bright, as well.
DeWakar's pair of second half goals lifted the Titans past West Potomac, 2-0, on Oct. 14 during the opening round of the Patriot District field hockey tournament at Howard Field. The Titans lost to South County, 3-1, in Tuesday's semifinal round, but T.C. Williams' win over West Potomac assured the Titans of a berth in the regional tournament.
DeWakar's first goal came with 17:25 remaining in the second half, breaking a scoreless tie in cold, wet conditions. Her second goal came with 14:10 to play.
"It felt really good to win," DeWakar said. "I think, as a team, we played really well and we finally got it together. ... It was hard at first because we were really cold, but our coaches told us that weather doesn't matter, we have to play like we always do."
Defensively, T.C. Williams goalkeeper Megan Boyle, a freshman, was not scored upon.
Titans head coach William Heresniak said he likes to build his teams from the back, building a defensive foundation. He spoke highly of Boyle, saying he has "no keeper issues for the next three years."
Heresniak said Boyle assumed the starting role due in part to another keeper being injured, but the freshman has played well since taking over.
"I have complete confidence in her — absolute confidence — and she's a freshman, which is shocking," the coach said. "From our first tournament until now, she's made saves that a three- [or] four-year veteran would make. [She has] very good field sense, [is] focused in the game [and] plays with heart."
Boyle said she has enjoyed her experience this season.
"I love playing on this team," she said. "Being a freshman on a varsity team and [the] starting goalie is a lot of pressure, but all my teammates support me and so do my coaches."
Heresniak said junior center-defender Katelyn Clarke is also a key component.
Against South County on Tuesday, senior forward Katy Mendez scored the Titans' lone goal.
T.C. Williams will travel to face the winner of tonight's Fairfax and Langley game on Tuesday for its regional opener.