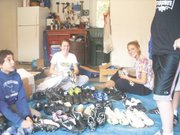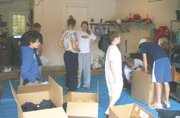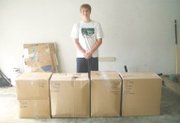 Boy Scout Peter Yount is an ambassador for Soccer Without Borders [www.soccerwithoutborders.com], whose mission is to use soccer as a vehicle for positive change in the lives of marginalized youth.
As part of his Eagle Scout project, Peter placed boxes at Burke Sporting Goods, Burke Racquet & Swim Club and Robinson Secondary and soccer players took boxes to team practices to collect used soccer gear. He also received several boxes of items from the women's team at The College of William & Mary, where his sister is a team member.
A member of Troop 1346, Peter collected 45 soccer balls, 160 shirts, 30 cleats, 50 pairs of socks, jackets, sweats, soccer cones and more. The items will be shipped to Guatemala where SWB volunteers will share it with the community.