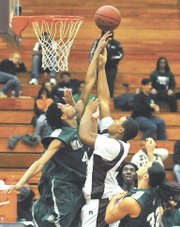 The maturation of Kireah Mathis, the basketball player, moved forward during Friday's game at Mount Vernon. At halftime, the Wakefield senior took on a leadership role, addressing an issue in the locker room. Back on the court, Mathis finished with a career-high 24 points in a hard-fought 76-70 loss to the National District's second-place Majors.
The maturation of Kireah Mathis, the person, moved forward in the fall of 2009 when the teenager, living at the Northern Virginia Juvenile Detention Home in Alexandria, sent his high school basketball coach a letter. Mathis played for Tony Bentley as a sophomore at Wakefield, but missed his junior season after getting in trouble and spending nine months at the detention center referred to as "Landmark." Set to return home in December of his senior year, Mathis wanted to rejoin the Warriors.
"He actually wrote me a letter from Landmark saying, 'Coach, I'm coming back home and I just want you to give me another chance. I'm going to do everything I can,'" Bentley said, "and he's done everything I've asked him to do. … He's maturing, he's growing up. These are kids and they make mistakes — we all did — and he paid for it, and now he's like, 'I need a chance.'"
Bentley keeps the letter on a dresser in his office. He still reads it from time to time. So far, Mathis is taking advantage of his second chance.
"I'd say [the last year of my life has] been rough. It's been real rough," Mathis said. "But basketball has made it [better]. I'm trying to just get back to basketball and change my life around and see what I can do next year in college. … [Landmark is] not a place you want to be at. I'd rather be out here playing basketball and going to school."
ON THE COURT, the 6-foot-4 left-hander affects a game in many ways. He is averaging nine points, eight rebounds and four blocks per contest. Friend and teammate Thomas Taylor said Mathis is "all-around good." Against Mount Vernon, Mathis did it all at both ends of the court. Offensively, he scored from everywhere on the floor — on drives to the basket, putbacks and perimeter shots. Defensively, he blocked seven Mount Vernon shot attempts. Mathis' long arms make him hard to defend and his defense hard to avoid.
Mathis scored with 4:29 remaining in the fourth quarter to give Wakefield a 62-59 lead, but Mount Vernon's Jesse Konadu tied the game six seconds later with a three-point play. A Taylor pull-up jump shot gave the Warriors a 64-62 advantage with 4:06 to play — their final lead of the game. Sean Stewart knocked down 1 of 2 free-throw attempts for Mount Vernon and point guard Robert Smith scored in transition to put the Majors ahead to stay at 65-64 with 3:18 remaining.
Mathis scored the Warriors' final bucket with less than a minute to play. He had two tip-ins during the third quarter; the first gave Wakefield a seven-point lead and the second put the Warriors ahead 53-51 entering the fourth quarter. Mathis drilled a 3-pointer midway through the second quarter, giving the Warriors a 29-28 lead while sparking a 9-0 run.
Wakefield led 35-28 late in the second quarter, but Mount Vernon star Skylar Jones outscored the Warriors 9-2 during an 88-second stretch to tie the game at 37 before halftime. During Jones' scoring burst, the Majors senior knocked down a pair of uncontested 3-pointers, leading Mathis to voice his displeasure with a teammate during halftime.
"I love Kireah, I love everything about his game," Bentley said. "He plays hard. Tonight, I watched him grow up. In the locker room at halftime he came in and he got on somebody about [Jones' 3-point shots]. … I finally watched him grow up and actually fuss at somebody. He's caring about the team now, so I'm happy about Kireah right now."
Bentley said Mathis not playing last year and the Warriors' 8-11 record have rendered No. 42 anonymous to college scouts. Bentley said he will make some calls at the end of the season and sees playing at a junior college next season a possibility for Mathis.
TAYLOR SCORED 11 points in the fourth quarter and finished with 18. The junior guard said Mathis is learning from his mistakes.
"I've known Kireah since elementary school. He's just grown," Taylor said. "Ever since elementary school he's been kind of off the edge. I've tried to get him back on but some friends don't listen and he had to learn the hard way. … He's definitely matured. He watches all his actions, hangs around the right crowds. … He's cool, calm [and] collected."
Bentley said even though the Warriors lost he was pleased with their effort.
"I thought tonight my guys really battled," the coach said. "This is what we've been talking about. We lost last week to Stuart (52-38) on no effort. I can't stand to lose like that. … Tonight, I don't mind the loss because we battled."
Mathis figures to help the Warriors and himself by battling to keep his life headed in a positive direction.
"I had a lot of time to think" while at Landmark, Mathis said. "Friends, basketball, family: I cherish it now."