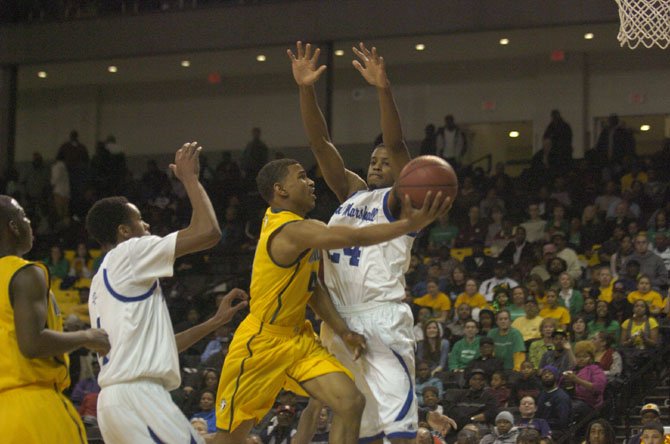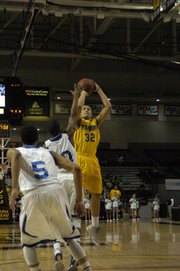 Wakefield coach Tony Bentley sat at a table in the media room at VCU's Siegel Center on Monday night and addressed reporters after the Warriors' loss to John Marshall in the AAA state semifinals.
To his right sat seniors Ermias Nega and Khory Moore, whose high school careers started with freshman hype, veered into adversity which kept them off the court and culminated with a trip to the state tournament. To Bentley's left sat sophomore Dominique Tham, who during the Northern Region and state tournaments showed he has the talent to be a force in the area for multiple years.
Bentley, who has guided Wakefield to the state tournament three times in 11 seasons, did most of the talking. Nega, who returned to the court for his senior season after off-court problems led to him sitting out his sophomore and juniors years, stayed silent. As the foursome exited the room after postgame interviews and prepared for a bus ride from Richmond back to South Arlington, the 2012-13 Wakefield boys' basketball team wrapped up a season in which the Warriors thrived while overcoming adversity on and off the court.
Wakefield's season ended with a 66-46 loss to John Marshall on Monday in the state semifinals. The Warriors trailed by 12 points after one quarter and by nine at halftime. Wakefield cut the John Marshall lead to six with a Moore bucket early in the third quarter, but the Warriors would get no closer as the Justices, led by guard Gerard Dean-McBride eventually pulled away.
"I can't speak enough about these guys and how much they mean to me and to the Wakefield program."

—Wakefield boys' basketball coach Tony Bentley
Poor shooting and foul trouble put Wakefield in an early hole. The Warriors shot 36 percent (10-for-28) from the field in the first half, including 1-for-5 from 3-point range. They shot 29 percent (17-58) for the contest, including 3-for-18 from behind the arc. John Marshall led 20-8 at the end of the first quarter and 32-23 at halftime.
"Not to take away anything away from John Marshall, they played a great defensive game, but I think we stopped ourselves," Bentley said. "We got selfish; we were very selfish tonight. We talked about it in the locker room; we won 25 games by playing as a team and tonight, I guess on this big stage, we had a couple guys that felt like they had to do outside of their roles. I felt like we kind of stopped ourselves and we played right into John Marshall's hands."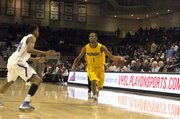 Bentley said the Warriors attempted too many jump shots. Three of Wakefield's top offensive threats — Moore, Tham, Nega — also got in early foul trouble. Nega was whistled for three fouls in the first half. Moore and Tham were called for two in the opening quarter.
"It took away from us being aggressive," Moore said. "Picking up two fouls in the first quarter, it kills our momentum and it kills our drive to keep going to the basket or keep playing good defense because you don't know when a reach call or a little push can get you that third foul and out for the half."
Moore, a first-team all-region selection, finished with a team-high 22 points and grabbed six rebounds. Tham, who fouled out with 6:29 left in the fourth quarter, totaled 10 points and 10 rebounds. Nega finished with four points, 10 rebounds and three steals, and junior Re'Quan Hopson had seven points and eight rebounds.
Dean-McBride scored 26 points and grabbed 12 rebounds for John Marshall.
While Wakefield fell short in the state semifinals, the Warriors accomplished much along the way. Led by Moore, who missed part of his sophomore season due to academic issues, and Nega, who returned to the program after missing two seasons, Wakefield won four of its first five games. The Warriors went 13-1 against the National District during the regular season and captured the district tournament title, beating Mount Vernon in the championship game.
Wakefield appeared on its way to its first Northern Region championship since 2005 when the Warriors entered the fourth quarter of the region final on Feb. 23 with a 19-point lead against Woodson. But the Cavaliers fought back and beat the Warriors 75-70 in overtime.
Wakefield bounced back from what could have been a mentally-crushing defeat by beating Mountain View 83-76 on Feb. 28 in the state quarterfinals at VCU.
"I give these guys all the credit for coming back the next game, especially Ermias, who comes back and has 32 [points] and 13 [rebounds] after having a bad game," Bentley said. "It speaks volumes to what kind of kid he is and [he] turned it on in that game."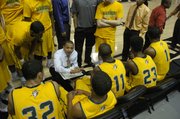 Wakefield finished the season with a 25-6 record.
While the Warriors will lose Moore and Nega, they will return Tham, a 6-foot-3 center who had a triple-double against Robinson in the region semifinals, 6-foot-3 forward Hopson, 5-foot-8 guard Jalen Carver and others.
"We've been through everything: down by 20 and coming back, up by 20 and losing the game," Tham said. "It's a great experience and I'm going to learn from that."
Wakefield's season ended in defeat, but the Warriors had many victories along the way.
"You put it all in perspective, these are the Wakefield kids," Bentley said. "These are the kids that South Arlington has and me being there for 11 years, I take pride in watching [Moore and Nega] go through what they went through — because, after all, they're kids — but they've learned so much through this process: learn how to be brothers, learn how to be family, learn how to depend on other people.
"For a young guy like Dominique, who is only a sophomore, being able to see their struggles that they're going through [will help]. He stepped up in the regional tournament through the state tournament. His name will be mentioned in our region next year as one of the top players as a junior next year. He's just going to learn from that. I can't speak enough about these guys and how much they mean to me and to the Wakefield program."