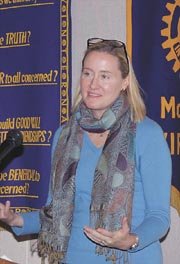 Susan Merten was checking the guest list for a reception in honor of U.S. Army Lt. Gen. Ken Keen the evening of Jan. 11 at the residence of the U.S. Ambassador to Haiti in Port-au-Prince one last time when she heard "a terrible groaning".
"I thought it was a bomb," said Merten, the wife of Kenneth W. Merten, the U.S. Ambassador to Haiti, explaining the initial minutes of the 7.2 earthquake that struck Haiti last month.
"I had no idea it was an earthquake," she said. "I ran all around screaming for our daughters. The 'Gone with the Wind'-style staircase was rippling like waves in the ocean. The pool had [3-foot] waves. When everything stopped we ran outside, we saw a huge cloud of dust from the shantytowns and we heard terrible screams from the city."
MERTEN, who is now living in McLean with her two daughters while her husband remains in Haiti helping to coordinate the United States' disaster-relief and humanitarian-aid efforts, spoke last week to more than 50 members of the Rotary Club of McLean about her experiences during and after the catastrophe.
Just hours after the disaster, Merten used pillows from the U.S. ambassador's residence as make-shift beds and handed out hors d'oeuvres that had been intended for the planned reception to the injured. The next day, Jan. 12, Merten and her daughters, Caryl and Elisabeth, along with non-essential U.S. mission staff were evacuated to Virginia.
Merten has been amazed at the McLean community's outpouring of support for the Haitian people since her return less than a month ago. She especially has been humbled by people's generosity toward Haiti's earthquake victims, ranging from Churchill Elementary School students collecting coins to the McLean Rotary Club's $5,000 donation to ShelterBox, an international disaster-response organization supported by Rotary clubs worldwide.
The McLean Rotary Club's Board of Directors authorized a $1,000 club donation to underwrite a ShelterBox kit. Additionally, support from individual club members netted $4,000 for an additional four kits. McLean Rotarian John Rosenbaum solicited contributions of more than $1,250 from his Arlington neighbors. Another McLean Club member, who wishes to remain anonymous, made a $1,000 donation.
THE MCLEAN ROTARY Club's donation will underwrite the cost of five ShelterBox kits. Each kit contains a 10-person tent, a water-purification system and other survival necessities including thermal blankets; insulated ground sheets; a multi-fuel stove; cooking equipment; a basic tool kit; and a small, children's pack containing drawing books, crayons and pens.
"The Rotary Club of McLean has been deeply affected by the images on television and in the newspapers of the victims from last month's earthquake in Haiti," said Paul Frank, the club's president. "We hope that through our collective support, which includes donations from the McLean Rotary Club and many individual donations from our members, we can help in the process of rebuilding the future for those innocent people affected by this horrific crisis. As Rotarians, we are committed to assisting communities in need, whether it is in our own backyard or internationally."