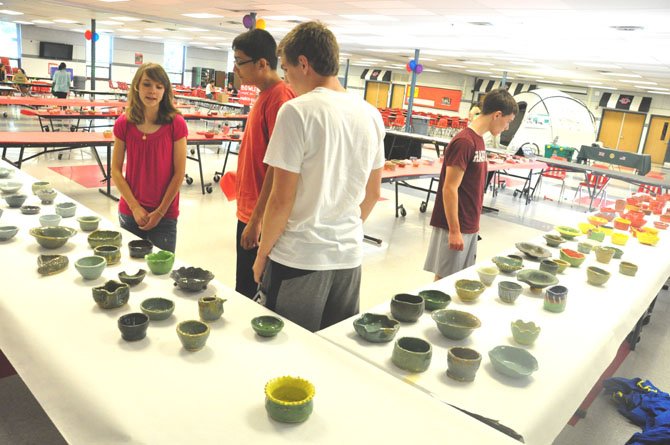 McLean — Members of the McLean High School community returned to the school Thursday, May 31 to pick up hundreds of bowls they made last March and to help raise funds to combat worldwide hunger. On March 1, students, families and school staff came to make bowls out of one-pound lumps of clay, and after months of work from the school's ceramics students, those bowls and more were available for a donation to Stop Hunger Now.
Stop Hunger Now is a nonprofit that provides nonperishable, nutritious meals to families and schools in need around the globe. The McLean Rotary Club has hosted several events over the past two years, and the Empty Bowls event raised money for one in November.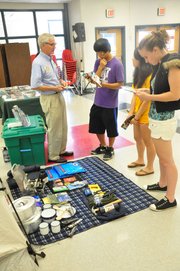 "Every event we've increase the number of meals packed by 50,000, and this November we're going to shoot for 300,000," said Dominic Alexander, program manager with Stop Hunger Now. "That will give us over a million meals packed right here in McLean, which is an amazing feat."
The Empty Bowls event was hosted by McLean's Interact Club, the Rotary's youth service organization.
"We tried to make it not just a regular community service event, but something people could come out to with the entire family and have a good time," said senior Zhina Kamali, president of the Interact club. "It's more than just getting ice cream and helping a cause. We're selling student artwork for the first time, and people can get their faces painted."
Sarah Dugan of Vienna is the aunt of a McLean student, and even though she wasn't there in march to make a bowl, she still had fun.
"My daughter and I took our times picking out a bowl, they were all so pretty," she said. "It was a fun event and we got to take away a souvenir that will always be a testament in our house that there are people in need, which is the whole point."
Also at the event was a display from Shelter Box, a nonprofit that provides boxes filled with survival supplies for the victims of natural disasters. The McLean community has raised money to send at least six boxes to victims of the Haitian earthquake and the Japanese tsunami.
Each box costs $1,000 to fill, store and ship and contains a shelter and equipment for water purification, warmth and cooking, and can support up to 10 people for 12 to 18 months.
"The people we're looking to help have already survived the disaster, and we want to help them recover," said Wayne Chiles of ShelterBox. "Usually we're transporting them from towns up to 250 miles to the people affected by disasters. We typically deploy about 200 with a normal disaster, but much more with a big one. We sent about 28,000 boxes to Haiti after the earthquake, the biggest deployment in our 12 year history."
More information on Stop Hunger Now can be found at www.stophungernow.org. More information on ShelterBox can be found at www.shelterbox.org.