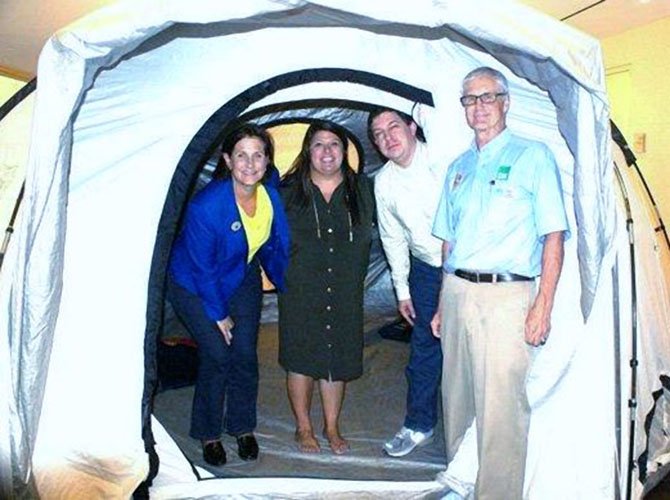 President Barack Obama, along with ShelterBox USA, has recognized Burke resident Wayne Chiles with the President's Volunteer Service Award as a result of his efforts to help victims of disasters throughout the world.
Chiles has worked to raise awareness and funds for ShelterBox, an organization that provides shelter for those affected by disasters and humanitarian crises.
"I am incredibly honored to work alongside our volunteers, including Wayne," said Emily Sperling, president of ShelterBox USA, in a press release. "It is through their continuous efforts that we are able to bring shelter, warmth and dignity to so many families displaced by disaster around the globe."
Chiles has worked with the Springfield Rotary Club and other organizations throughout the area to raise awareness for ShelterBox.
He participates in community activities and fairs, demonstrating the work of ShelterBox by setting up the tents and supplies that people in a disaster would use.
"I've been in rotary now for 30 years. Back in the spring of 2004, our rotary club in Springfield learned about this project," Chiles said. "We liked what we heard about it, we contributed and we liked the fact that at that time, the organization sent us a notice telling us where our ShelterBox had been delivered, following a disaster in the Caribbean. We decided to continue to support it."
Chiles has volunteered with ShelterBox through several natural disasters, including the 2004 Tsunami in Indonesia and Hurricane Katrina, encouraging groups in the area to donate to the cause.
Chiles even joined a group from his church, Burke United Methodist, on a mission trip to Mississippi to help those impacted by Hurricane Katrina.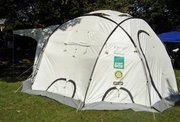 "It seemed like ShelterBox was working in that same vein. The more I learned about it, the more deeply I came to appreciate the project," Chiles said. "It was a match made in heaven."
The people who Chiles interacts with, he says, have made the project successful by making donations.
April 6 through 12 is National Volunteer Week, which began in 1974. ShelterBox USA responded to over 25 disasters in 19 countries last year, providing essential equipment to survivors.
"Wayne is one of those 'go-to' people," said Alan Monroe, ShelterBox USA's director of volunteer programs. "He's always quick to say 'yes' and help out when needed. One year, there were 27 awareness events that no other volunteer was able to attend, and Wayne attended all of them on our behalf."
Although Chiles says he is just being recognized for putting in time, his hard work and dedication is recognized.

"He truly cares about the organization and understands the impact of our work. When he talks about ShelterBox, there's a tear in his eyes. You can tell it's really meaningful to him, and we're proud to have him a part of the ShelterBox family."
Chiles will be displaying the ShelterBox at the upcoming Viva Vienna event in May.
He said the ShelterBox display often speaks for itself.
"If I have the time and space to set up the tent, I really don't have to say a whole lot. People who see it and understand it as disaster response recognize quickly how beneficial the materials we provide are," he said.