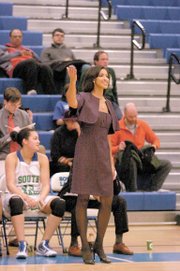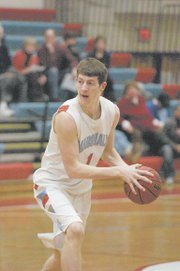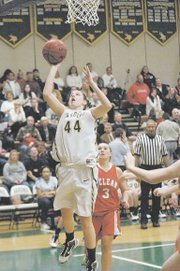 For Fairfax County high school sports teams, last week's snow storm brought seasons to an abrupt halt just as they were preparing to wind down regular season schedules and head into district postseason competition.The momentum and continuity of the winter
athletic seasons evaporated as snow continued to rise in accumulation and intensity. Most student-athletes remained at home over the week-and-a-half period as schools closed and extracurricular activities, including sports practices and contests, were postponed or canceled.
"We played last Thursday [Feb. 4]. Then there was no contact with the kids until Saturday [Feb. 13] when we practiced," said Jim Smith, the Chantilly High boys' basketball coach. "I would send out e-mails [to the team] and things like that."
Since late November, local high school teams throughout Northern Virginia have practiced almost daily and competed in games or meets once or twice a week. Then, all of a sudden, it all came to the weather-related halt.
There has not been much that coaches or players could do except to stay at home and wait for things to clear up outdoors. Fairfax County schools were closed throughout last week. This past Monday (Feb. 15) was President's Day so students were not expected to get back into school until the following day.
At Centreville High, members of the indoor track and field team had actually considered the possibility of weather problems later in the season.
"We have discussed all season how unpredictable the weather can be and how flexible we must be with our training [and] how we must be diligent about keeping our fitness levels up," wrote Kelley Devlin, a Centreville track and field assistant coach, in an e-mail. "We can't afford to take multiple day breaks. Our team is very good with using cross training machines – ellipticals, treadmills, bikes - if not in their own home, at a neighbor or friend's close by. Or when the roads are safe, they get to a gym or find some safe streets that are close to clear to run on."
Devlin was pleased how the Wildcat athletes responded to the school and activities' shutdown.
"They have done a wonderful job sticking together and using indoor track facilities in the area to get track workouts in when possible and the parents have been extremely supportive with transporting them," she said.
Centreville, along with the other track programs in the area, concluded their respective postseason district championship meets on Thursday, Feb. 11, just before the latest snow fall hit the area in what has been a record-breaking winter of accumulation in this part of the state. The Northern Region track and field championships are scheduled to take place this Saturday, Feb. 20 at the George Mason University field house.
"We are incredibly thankful to have gotten our district meet in," said Devlin, who saw the Wildcat boys' team garner a first place tie with Robinson at districts. "The runners are highly motivated after much success at the district level. They know they have unfinished business at the regional meet, and are prepared to race hard to get to the Virginia State meet."
<b>BASKETBALL DISTRICT</b> tournaments are slated to begin this week. In the Concorde District, teams' district records over the first round of the regular season schedule are being used to determine tournament seeding. Any games played over the second half of the regular season district schedule do not count towards postseason seeding. In the case of the Chantilly boys' team (13-6 overall record), that meant recent district wins over Oakton on Feb. 4 and Robinson on Jan. 28 got wiped off the board in regards to tournament seeding.
The top-seed Herndon boys and the No. 2-seed Centreville team both were scheduled to receive first round byes in this week's six-team Concorde tournament. Chantilly, the No. 3 seed, was scheduled to host No. 6 Robinson in a district quarterfinals round game on Wednesday, Feb. 17, while No. 4 Oakton was set to host No. 5 Westfield in the other quarterfinals. Wednesday's winners will advance to Friday's semifinals round and a seeding at next week's 16-team Northern Region tournament. Meanwhile, Wednesday's district quarterfinals round losing teams will see their seasons end.
It might not seem fair that teams that have not played in 11 days all of a sudden have to compete in a do-or-die district playoff game. But that's the way it is for teams in the Concorde and elsewhere. Teams are in the same quandary as a result of the final week-and-a-half of the regular seasons being wiped out.
Smith, the Chantilly coach and the former head coach at McLean High, said it was good to get back onto the practice floor on Saturday. Like other coaches across the region, he hopes his team will be ready to jump into playoff action following the long layoff.
"It's kind of hard to gage the emotional tempo of the team," said Smith. "But I thought we had a great practice [although] the kids got tired quickly and the conditioning was a little bit of a factor."
Smith told his players, weather problems or not, there will be just one district champion crowned in each of the region's four districts – the Concorde, Liberty, Patriot and National.
"The thing I said to my kids on Saturday [at practice] is that there will be four district champions, and the following week there will be one region champion," said Smith. "The teams that win [championships] will be the teams that navigated best and did not allow [the schedule disruptions due to the snow] to be a distraction. There is nothing we can do about [the past two weeks] or change. Our next step is to get ready for Robinson."
Tim Anderson, the Langley High girls' basketball coach, said the biggest factor going into district tournament play following the less than ideal conclusion to the regular season is to excel in basics.
"The bottom line is to execute on the floor," said Anderson, whose Saxons were set to host cross-town rival McLean in a Liberty District tournament contest this Thursday evening (Feb. 18) at 5:30. "And, if you don't win, your season's over."
Anderson said his squad, which held its first practice in over a week this past Saturday, was not overly distracted by the unusual end to the regular season.
"Our girls on the varsity team practiced on Saturday and we had a normal practice," he said. "They seem to really roll with things pretty well when they know [the weather is] something they can't control. The thing that is frustrating for them is that they have missed school and classes, and they've missed the practices and games."
The following Liberty District girls' basketball tournament first round games were scheduled for this Thursday night, Feb. 18: No. 8-seed Jefferson at top seed Madison (7 p.m.); No. 5 McLean at No. 4 Langley (5:45); No. 6 Fairfax at No. 3 Stone Bridge (5:45); and No. 7 Marshall at No. 2 South Lakes (7).
The girls' semifinals will take place the following night (Friday) at Madison High School. The first game will start at 5:45.
The Liberty District boys' first round playoff games will also take place on Thursday and are as follows: No. 8 Madison at top seed Langley (7:30); No. 5 South Lakes at No. 4 Fairfax (7); No. 6 McLean at No. 3 Stone Bridge (7:30); and No. 7 Jefferson at No. 2 Marshall (7).
The Liberty boys' semifinals games will be held on Friday night at South Lakes. The first game will start at 5:45.
The boys' and girls' district finals will take place next Monday evening, Feb. 22 at South Lakes. The girls' title game will be at 5:45, followed by the boys' championship.
<b>WRESTLING</b>, as a result of the long layoff, was scheduled to forego its district tournaments and, instead, have an expanded Super Regional's tournament on Tuesday, Feb. 16 and Wednesday, Feb. 17 of this week at Fairfax High School. Then, in a quick turnaround, the state AAA tournament is set to take place this Friday and Saturday at Robinson High School.
This week's region meet was to consist of 32 wrestlers competing at each weight class with the top four advancing to states. The field of 32 wrestlers at each weight class is double the usual number of 16 wrestlers who would compete at regionals in a normal year.
Wrestlers were set to miss school on Tuesday for the first round of region matches. Many of the athletes were planning to report with their teams to Fairfax as early as 6 a.m. And some will be there as late as midnight. Those wrestlers who qualify for states later in the week will miss school on Friday as well.
Mike Gonzales, the Herndon High wrestling coach, said his team members were getting emotionally geared for the postseason districts and regionals before the snow storm buried the end of the regular season and forced cancelation of districts. The coach said his Hornets have done a good job of re-grouping for the revamped postseason.
"There was a lot of momentum going into the postseason," said Gonzales. "Then you get a week off and feel you have to get back in shape again. But they're ready. The kids who are [usually] motivated will still be motivated. The kids I have are motivated and see the opportunity of making it to states."
Other region wrestling tournaments across Virginia took place this past weekend. Those wrestlers will have close to a week to get ready for the state meet. Northern Region wrestlers, on the other hand, still have to compete at regionals and then, for those who qualify, get right back into action again two days later at states.
"This wacky schedule will work as a disadvantage, especially at a high level of wrestling," said Gonzales, of Northern Region wrestlers who qualify for states. "They'll only have one day off."