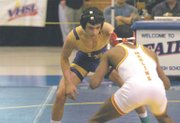 When it comes to competing with brothers, it's all about bragging rights.
On Feb. 20 at the Virginia AAA State Wrestling finals at Robinson Secondary School, Rory Renzi's fifth-place finish earned a spot on the winner's podium and those coveted bragging rights over his six brothers.
"No Renzi has ever placed [at the State finals] as a freshman," the 112-pound class wrestler said. "I'm the first one."
Sorry Royce, Ronnie, Robbie, Ricky, Ryan and Ross, you might have to listen to Rory brag for a few months.
"He looks up to his brothers, but he wanted to eclipse the bar they had set," Lake Braddock wrestling head coach Scott Matheny said.
Rory's path to the podium started with a 10-1 victory over Franklin County's Andrew Turner, but his championship aspirations were cut short by Varnia's Shawn Crawley in a 3-1 loss. He followed the loss with a 13-7 win in the consolation tournament over Bayside's Jerrelle McCabe, but suffered a 11-4 loss to Henrico's Charlie Lipford.
"I didn't wrestle my best match [against Lipford]," he said. "This was my last shot to go big or go home."
Motivated by a chance to set family history, Rory avenged his previous loss in the championship bracket by pinning Varnia's Crawley.
"Fifth place is pretty good for a freshman," he said. "But I'm looking for big goals next year. I want a state championship."
The thought of having another Renzi for three more years delights Matheny.
"[Rory] gives us three more years of a steady and hard work ethic," he said. "He sets his bar high and he [won't] settle for anything less. He's showing the other freshman what they can do."
Rory isn't the only Renzi on the Lake Braddock wrestling team. His brother, Ross, a senior, suffered a season-ending injury during the Northern Region finals.
"Ross won the Northern Region [160-pound title], but tore some tendons in his knee," Matheny said. "He beat the No. 1 kid in the state at the region final and had a great chance of placing [at states]."