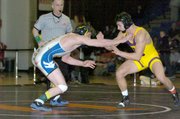 Alexandria — Seven Robinson grapplers wound up on the losing end of their finals matches on Feb. 9, yet walked away a winner from the Northern Region wrestling meet at Hayfield Secondary School.
The Robinson wrestling team sent nine grapplers to the finals, but only two --- Jack Bass (152) and Jake Pinkston (285) --- came away with region titles. However, the Rams' depth helped them capture the team championship with a score of 232. Westfield finished runner up with a total of 224, followed by Mount Vernon (155.5) and Lake Braddock (146).
"We didn't perform as well as I think we could have in the finals," Robinson coach Bryan Hazard said. "We had two champs. We didn't have as many champs as Westfield, we didn't have as many champs as Lake Braddock, but at the same time, we came and we competed and we still won the tournament."
Greyson Olimpo (106), Austin Riggs (126), Dane Robbins (132), Dallas Smith (138), Zak Depasquale (160), Cole Depasquale (170) and Daniel Mika (182) each finished runner-up for Robinson.
Westfield finished with four individual champions (Derek Arnold (138), Beau Donahue (145), Frank Aiello (170) and Tyler Morson (182)) and Lake Braddock had three. For the Bruins, Ryan Haskett captured the 113-pound title, Sean Haskett won the 132-pound championship and Rory Renzi brought home the 160-pound title.
Renzi dedicated his performance to his grandfather, Eugene, who died five years ago to the day. Renzi said he has high hopes for the state tournament and was pleased with Lake Braddock capturing three region championships.
"I've taken fifth [three years in a row] at states," Renzi said. "I plan to win it all. Always shoot for the stars. … The Haskett brothers, they're great. I work with them, trying to make them better every day. It's awesome to see both brothers win it today."
South County's Hunter Manley won the 120-pound championship.
The VHSL state wrestling championships will be held Friday and Saturday, Feb. 15 and 16 at Oscar Smith High School in Chesapeake.
More like this story