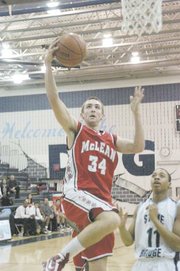 For the third straight year, the Mclean High boys' basketball team is headed for the 16-team Northern Region playoffs.
The Highlanders clinched a seeding in the region field by upsetting Stone Bridge in overtime, 70-67, in a first round Liberty District tournament game played last Thursday evening, Feb. 18, in Ashburn. McLean, the No. 6-seed of the eight-team district tournament, went on to lose to No. 2 Marshall, 57-39, the following night at South Lakes High School. Stone Bridge, the No. 3 seed, saw its season end with the loss to McLean.
McLean (10-12) was set to meet Concorde District opponent Chantilly or Oakton in a first round region playoff game on Wednesday, Jan. 24 of this week. It marks the first time since the early 1990s in which the Highlanders have qualified for regionals in three straight years.
Marshall, which was set to meet top seed Langley for the district title game earlier this week on Monday, converted eight, 3-point shots in its semifinals victory over McLean. The Statesmen led by just six points at halftime before pulling away in the third quarter behind four, long range 3-point conversions. It was Marshall's third win over McLean in three meetings this season.
"We could never get ahead, although we got close," said McLean coach Kevin Roller, of his team's playoff setback to Marshall. "We didn't shoot the ball well. But we haven't been a great perimeter shooting team all year."
But in the first round district playoff win over Stone Bridge, McLean had success shooting the ball from long range as it converted five 3-point shots in the victory. Jake Pierce, a junior forward, made all five of the Highlanders' treys on way to a 15-point night. McLean's leading scorer in the win was senior forward Phil Bouchard, who scored 18 points. Other big games for McLean came from senior guard Sean Fitzgerald and sophomore guard Gordon Rogo, who both tallied 11 points, and sophomore guard Sango Amolo (8 points). Thomas Van Wazer, a sophomore forward, added five points.
Bouchard scored 15 points in the loss to Marshall following his 18 point effort in the win over the Bulldogs.
"Phil's been our best player all year," said Roller.
<b>THE MCLEAN GIRLS</b> also earned a trip to this week's regionals as a result of reaching the semifinals of the Liberty District tournament. The No. 5 seeded Highlanders, coached by Mike O'Brien, defeated cross-town rival Langley, 47-38, in quarterfinals round district tournament action last Thursday evening, Feb. 18, at Langley. The Highlanders were led by Melissa Wilson's 18 points in the win. Andie Romness was also in double figures with 14 points.
For Langley, the No. 4 seed, Sarah Kleinknecht scored 12 points while teammate Brooke Gallagher added nine. Mary Riley Pembroke and Kristen Kody both scored six points and Alexis Doherty contributed five for the Saxons, who saw their season end with the first round loss.
The following night, on Friday, saw McLean (11-10) fall to defending district champion and top seed Madison, 38-31, in a semifinals game played at Madison in Vienna. Patricia Pascoe and Lauren Sutherland led the Highlanders with six points apiece in the low scoring affair. Madison was set to meet No. 2 South Lakes in the district title game this past Monday night.