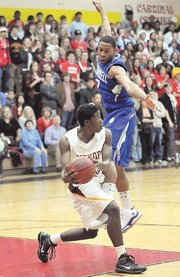 Joe Wootten stamped on the floor of Bishop Ireton's Godley Gym and told his Bishop O'Connell boys basketball team to apply defensive pressure. Wootten wanted aggression from his Knights, who played with enough energy early to build an 18-6 lead Friday against the host Cardinals.
Then came the second quarter. Wootten kept stamping his foot, but whatever drove O'Connell to an early double-digit lead had disappeared. The Knights scored one point in the second period — part of a 10-minute stretch without a field goal — and trailed 20-19 at halftime.
"We stopped running our offense and I thought we kind of let up a little bit," Wootten said. "We weren't strong. We got some good shots but we didn't finish strong. You've got to give Ireton credit, they battled back."
O'Connell senior point guard Kendall Marshall, who will play for the University of North Carolina next season, wasn't much of a factor in the first half, scoring two points.
"I think we came out in the second quarter and kind of got complacent," he said.
After an uninspiring end to the first half, Wootten challenged his players to come out of the locker room more aggressive. The result was an 8-0 Knights run to open the third quarter and an eventual 53-44 victory. Ireton trailed by three points in the final two minutes of the game but O'Connell's size, athleticism and execution were too much.
"I thought we came out, though we missed a lot of shots in the second half, I thought we played the right way and that's all you can ask of the guys is to play the right way," Wootten said. "I think we drove [against Ireton's] zone [defense]. You can't just let a zone sit there. You've got to drive it and you've got to attack it — but you've got to do it strong, you've got to be intelligent, you've got to move the basketball. I thought we did a better job of that."
Marshall and junior Larry Savage set the tone for the Knights in the third quarter. Savage tipped in an O'Connell miss for the first points of the period. After a James Burgess layup gave the Knights a 23-20 lead, Marshall twice dished the ball to Savage for a dunk, including a transition jam that gave O'Connell a 27-20 lead and led to an Ireton timeout.
Savage scored a team-high 20 points. Wootten said Savage and 6-foot-7 Marcus Carmon were "active." Marshall finished with 11 points, but also took care of the ball and made several nice passes.
"I thought Kendall was tremendous in the second half," Wootten said. "We had him down for no turnovers in the second half. If you start driving the zone, you're a better player."
While attacking helped the Knights regain the lead, O'Connell decided to back off late. Leading 44-41 with less than three minutes to play, the Knights ran nearly a minute off the clock by holding the ball on the perimeter. Burgess was eventually fouled and made 1 of 2 free-throw attempts to put O'Connell up by four and Ireton got no closer the rest of the way.
"You've got to give them credit for making plays," Ireton coach Neil Berkman said.
Burgess scored 12 points, connecting on 6 of 8 free-throw attempts in the fourth quarter. Canon scored five points for the Knights, Joe Cabrera finished with three points, knocking down a 3-pointer in the opening quarter, and Maurice Williams added two.
Ireton scored the first 14 points of the second quarter before Canon knocked down a free throw with 1:31 to play in the half.
"We got a little more aggressive on our zone and they missed shots," Berkman said as reasons for the second-quarter turnaround. The coach also said he was pleased with the Cardinals' ability to limit O'Connell's fastbreak points.
Patrick Hanafin led Ireton with 20 points. Antonio Rouse added 14.
Marshall said the Knights remained focused on themselves while Ireton got back into the game.
"It's always about us," he said. "We never look at what the other team is doing and get worried because that's when you start playing not to lose instead of to win. It was definitely key for us to just focus on what we were doing."
The victory gave O'Connell two in three games and evened the Knights' record at 7-7. O'Connell started 5-0 before dropping six straight and seven of its next eight.
"We've had some adversity hit this team with different things," Wootten said. "I think we're getting better. I think in our last three games we've played really well."
The Knights traveled to Springfield, Mass., and lost Monday to St. Benedict's (New Jersey) 72-52 at the Hoophall Classic. The Knights host national power DeMatha at 7:30 p.m. today.