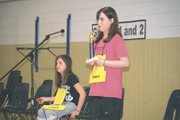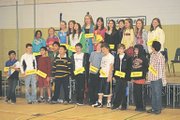 On Feb. 25, Great Falls Elementary School hosted its second Scripps National Spelling Bee. Children from the fourth through sixth grades were invited to compete in classroom spelling bees, the first and second place winners from each classroom then qualified for the school-wide spelling bee competition.
The outstanding participants included Jessica York, Sophia Divone, Thompson Brownlee, Shayan Sanjideh, Chris Obolensky, Michael Casey, Mason Matay, Seena Kooshki, Melody Stone, Samantha Masino, Brady Richardson, Erin Murray, Will Broeckaert, Tasmia Haq, David Song, Peter Bui, Fionntan Thinnes, Abby Jackson, Regan Herberg, McKenna Day, Caroline Bryan, Jack O'Donnell, Caroline Wildman and Srujan Koneru.
Each student stood in front of the large audience and one by one spelled challenging words such as centipede, applause, casserole, scholarship and omniscient! After an hour and a half of nail biting competition there were only two contestants left standing, Abby Jackson and Erin Murray.
The girls rallied back and forth for first place but, once again, reigning champion, Abby Jackson took home the gold, winning top place in the second Great Falls Elementary School Spelling Bee. Abby, the school wide winner in 2008, successfully spelled the word "parable" to defeat her classmate and end the competition.
Abby Jackson advanced to the Fairfax County Spelling Bee.