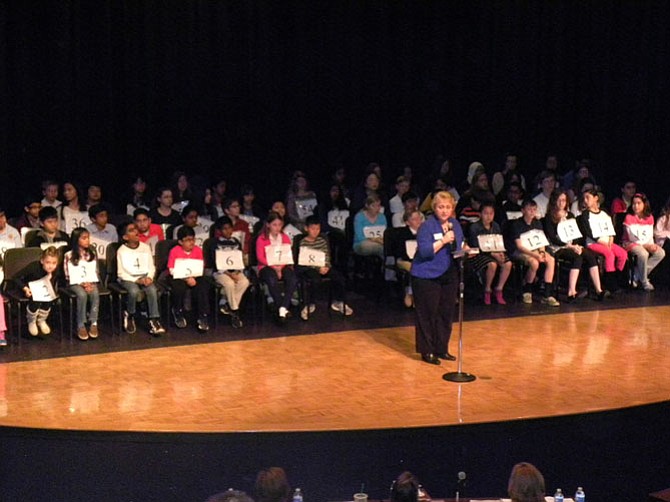 Photo Gallery
Fairfax County Spelling Bee 2016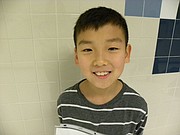 Click Photo for Flash
The 10th annual Fairfax County Spelling Bee, sponsored by the Fairfax County Council of PTAs (FCCPTA) and the Fairfax County Federation of Teachers, took place on Sunday, March 13, at Lanier Middle School. Students from first grade to eighth grade, representing more than 60 elementary and middle schools from around the County, competed to represent the region at Scripps' National Spelling Bee, which will be held in May at National Harbor in Washington, D.C.

The first word of the competition went to first grader Xiwen Yao, from Oak Hill Elementary School in Herndon, who correctly spelled "bandit." The words became harder as the rounds progressed, and spellers were challenged with words from Latin, Greek, French, German, Swahili, Japanese and many other languages.
"I prepared by studying root words for each language," said Kunal Sharma, an eighth-grade student at Kilmer Middle School who came in second place at the regional spelling bee on Sunday. "My mom knows English and French, and she helped me a lot," he said.
AFTER 11 ROUNDS of competitive play, fourth grade student Eric Kim, from Wakefield Forest Elementary School, was declared the champion for correctly spelling every word thrown at him. His winning word was "diffidence." In addition to being able to compete nationally, Kim also received a one year's supply of pizza from Papa John's, Webster's Third New International Dictionary and a one week's stay at the Gaylord Resort and Hotel at National Harbor with one family member, during Bee Week. To prepare, Kim studied for hours a day, and it paid off.
"He stopped wanting to practice," laughed his father. A dedicated student, Kim competed in an Odyssey of the Mind competition the day before winning the regional spelling bee.
"For those who are successful in the competition it becomes a second job. It's a matter of skill, but it's also a matter of luck," said Eliza Morss, the FCCPTA coordinator for the spelling bee.
In this elimination game, students study thousands of words to prepare. Scripps exclusively uses Webster's Third New International Dictionary, which contains 472,000 words, and any of those words are fair game on competition day. Spelling bees at the school level are run by volunteers who rotate out with greater frequency at the middle school level than do volunteers at the elementary school level, but the goal is for the competition to continue expanding.
"I had a grandparent say they would like to watch [the regional competition] on television," said Morss. "And I thought, why not. Next year it will definitely be televised," she said.
AT THE NATIONAL SPELLING BEE, which is televised each year, one of the first things students will take is a multiple choice vocabulary test. The grade on that test will determine whether the student progresses to the next level of competition where they will spell before a judging panel.
"At the oral round there were a lot of successful kids. They then cut off a certain group again based on your grade on the test," said Morss. "That's how they make the show entertaining and suspenseful."
Kim will join spelling champions from around the country and compete during Bee Week on May 22-27.