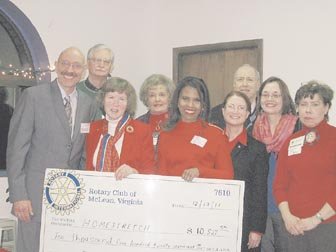 Rotary Clubs from McLean, Alexandria, Bailey's Crossroads, Burke, Fairfax, Falls Church, Reston, Rosslyn/Fort Myer, Tysons and Vienna have teamed this year to partner with Homestretch, a nonprofit which serves Fairfax County and provides transitional housing to homeless families. The clubs have granted Homestretch $10,527 to start a preschool program for children in the families it serves. The funds will purchase furniture, carpet, books, children's center supplies, and teacher instructional materials. The goal of the center, which will open in February 2012 in the Homestretch office building on Maple Avenue in Falls Church, is to enable children to become kindergarten-ready so they can succeed in elementary school and beyond.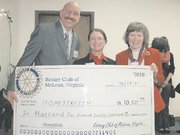 Many of the 100 families that Homestretch serves are single parent. About half of them include abused women. One-third of the parents are foreign-born refugees from Darfur, Afghanistan, and other war-torn countries. The families include 235 children. Typical problems faced by homeless families include lack of education, lack of English language skills, lack of marketable skills, high debt and poor credit, and poverty. The families stay with Homestretch approximately two years. Approximately 85 percent of the families find permanent housing and achieve self-sufficiency. Homestretch owns or leases 65 dwelling units to provide transitional housing for these families. The success rate is made possible by offering a wide range of services, including language, job skills, and financial management training.
Visit www.Rotary.org for more information.