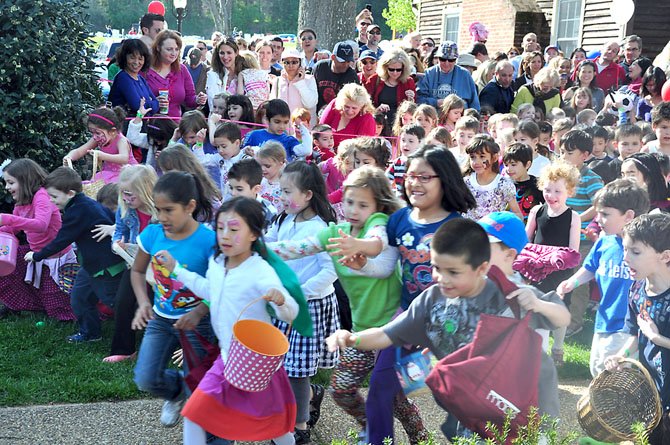 Great Falls — The Great Falls Village Green was littered with 7,000 brightly colored eggs Sunday afternoon. Most of the eggs were filled with candy, but 900 of them contained $10,000 worth of gemstones donated by Jorge Adeler of Adeler Jewelers.
"I was hoping for some chocolate, but I got this purple jewel," said Samantha Bertram, 5. "My mom said I should enjoy the candy in the other eggs and make sure I save the jewel."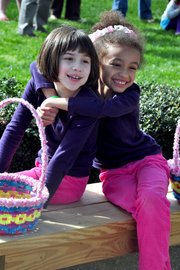 The egg hunt capped an afternoon at the annual Great Falls Children's Spring Festival, which also featured hayrides, games, moon bounces and other carnival games. Almost 700 people attended the event, the proceeds of which went to the Great Falls Optimist Club for their community programs.
Just before 4 p.m. the crowds made their way to the Village Green and gathered around the borders. Adeler got the children fired up, imploring them to start a chant of "We want eggs!"
As the children were unleashed, it took less than two minutes for all the eggs to disappear into children's bags and baskets. They didn't have to go far to start breaking them open to check out the contents inside, most just curled up on the grass as soon as it was apparent there were no more eggs.
"I read recently about how egg hunts around the country have been cancelled because of aggressive parents, so it's nice to see the kids get a chance to find eggs themselves," said Nancy Smith of Great Falls.
For those children who weren't able to get eggs during the first go-round, they could make it to the gazebo in the center of the green, where Adeler and his daughter Wendy handed eggs out to children.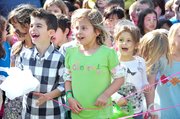 "I like that it's a community-type event where they make sure everyone can get eggs, it's not about filling up baskets, it's about giving every kid a chance to get their own eggs," said Stephen Clark of Great Falls. "It helps us remember that it's just about having a good time, nothing else."
This is the 28th year Adeler has been involved with the Egg Hunt, and he says it's something he hopes to continue as long as he can, and that his daughters can continue after him.
"In Great Falls, children can have everything they need in their houses, but it's still nice to get people together to come out and have fun," he said. "Things like this are what defines a community."