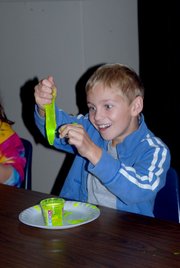 Great Falls Elementary School (GFES) is going where few elementary schools have gone before, into the exciting world of science enrichment.
Thanks to the hard work and generosity of GFES parents, the school's PTA and community organizations, GFES has launched an in-school science lab that treats students to a monthly dose of hands-on learning. Students have had the opportunity to study subjects including sublimation, states of matter, magnification, weather, kinetic energy, laws of motion, animal life cycles and solar power. Sixth graders received a special introduction to biology through squid dissection.
In the spring, older students will even have the chance to build and launch rockets. Students from all grades are enjoying the program. According to one third grader, "I really liked looking through the microscopes. I've only ever seen them on TV. It was really neat to actually use one."
One fifth grader said, "the Science Enrichment Lab is such a cool way to learn. You actually get to do experiments and see science in action."
According to studies, it's just this type of excitement that drives future success in the field of science. The National Science Teachers Association and other science-focused organizations feel that science activities in the early grades are what lay the groundwork for a love of science as students enter middle and high schools. They support the notion that inquiry science must be a basic in the daily curriculum of every elementary school student at every grade level.


THE SCIENCE LAB was conceptualized and developed by three GFES moms, Rachel Rothstein, Lisa Hodge and Marissa Fallon. Rothstein explains that she was inspired to start the program as she watched her own children crave opportunities in science.
"We want our kids to have the chance to learn in a 'lab' environment, where they can be exposed to science. It's one thing to learn about science through a textbook, it's entirely different to be able to touch and feel the science you are studying," said Rothstein.
Hodge, whose own elementary school-aged son had attended summer science camps and learned first hand just how exciting science could be, felt that GFES could pursue new and exciting ways to learn science too.
"Watching my own child get excited about science really inspired me," said Hodge. "Now that the lab is up and running it's great to see lots of kids looking at science in new ways."
Fallon, who is a member of the GFES PTA Board, was instrumental in getting support and funding for the program.
"As a PTA, we have a responsibility to work with our school to develop great programs for our students," said Fallon. "I believe supporting the Science Enrichment Lab is money well spent."
Many parents and teachers have expressed their appreciation for the opportunities the Science Lab provides. Parent and PTA-President Caroline Divone points out that, "as budgets are being scaled back in schools, it takes creative thinking and innovative programs to make sure that our students have great learning opportunities. The Great Falls Elementary School community really did a great job with this effort!"
The Science Enrichment Lab is fully funded by contributions from GFES families and local businesses. The program is taught by a former High School Science teacher and parent volunteers. All lessons are designed to reinforce scientific methodologies and vocabulary to help the children develop a familiarity with scientific principles.


LAB TOPICS were chosen by a panel of GFES teachers and supplement the science curriculum being taught in the classroom. Based on its initial success and rave student reviews, it's a program that will continue at GFES for many years to come.