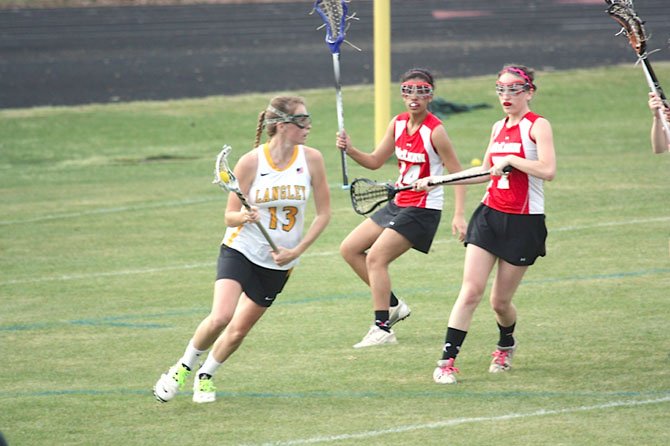 Going into this week's spring break, the Langley High girls' softball team, under head coach Jessica Roche, had put together a winning record at 3-2.
The Saxons, in a high-scoring road game last Thursday, March 29 versus Liberty District opponent Stone Bridge High in Ashburn, lost to the Bulldogs 11-7. Langley opened the game's scoring in the top of the first inning with two runs, the highlight being a two-run double off the bat of senior third baseman Julia Weeks. However, the home team Bulldogs, an inning later, answered with three runs in the second and four more in the third to build a 7-2 lead.
Langley got to within 7-3 off an RBI single from second baseman Kaitryn Evans. Setting the table that inning were Emily Templin and Gabi Pijaca, who both singled.
Stone Bridge continued to generate good offense and built an 11-3 advantage through five innings. But the Saxons were not about to give up as they tallied four runs in the top half of the sixth inning to get within striking distance at 11-7. A single by freshmen shortstop Maggie Natal started the inning. Following a few Stone Bridge errors, Weeks knocked a triple for the big hit of the inning.
Back in the ball game, Langley relief pitcher Jenna Dunn took over on the mound in relief of starter Templin (5 innings) and held the Bulldogs scoreless in the bottom of the sixth inning. In Langley's final at-bats in the top of the seventh, Evans reached base on a single but could never advance and the game ended at the 11-7 score.
TWO DAYS EARLIER in a district road game at South Lakes High School in Reston, Langley earned a decisive 12-1 victory over the Seahawks. Templin pitched all five innings in the shortened five-inning game, allowing just one run, two hits, and three walks along with five strikeouts. Langley was relentless at the batter's box with 11 hits, including triples by Pijaca and Templin. Defensively, the Saxons received fine infield play by second baseman Evans, who had two putouts and four assists to help her team secure the win.
In its first three games this spring, Langley soundly defeated visiting non-district opponent Robinson, 16-4, in the season opener on March 16. Four days later, on March 20, the Saxons opened their district schedule with an 8-0 win at Marshall High.
In the shutout win over the Statesmen, Templin went the distance on the mound to earn the victory, allowing four hits over seven innings of work while striking out nine Rebels hitters. At the plate, Langley had four doubles in the win, the two-baggers coming from Templin, Weeks, Evans, and Ashley Panetta. Weeks led the Saxons with four RBI, while Natal had three singles and stole a pair of bases. Other singles came from Carina Sturm, Pijaca, and Melanie Dronfield. The game ended on a spectacular diving catch by center fielder Panetta on a deep fly ball.
The win over Marshall improved Langley's record to 2-0.
Langley lost its first game of the season, 4-2, in a district home contest versus Fairfax on Monday, March 23.
The Saxons are currently enjoying a busy spring break week in Myrtle Beach, S.C., competing at the GSSC Tournament. Langley was scheduled to play a game per day from Monday, April 2 through Friday, April 6.
Next week, Langley will resume its district schedule with a home game versus Madison on Tuesday, April 10. Later next week, the Saxons will play at district opponent Jefferson High on Friday, April 13. Both games are scheduled to begin at 6:30 p.m.
Saxons Beat McLean in Girls' Lacrosse ActionIn a Liberty District, cross-town rival matchup last Wednesday, March 28, the Langley High girls' lacrosse team defeated traditional opponent McLean High, 19-7, in the Saxons' district opener.
Langley jumped to an early lead on its home field and controlled the action throughout most of the contest. Eleven different Saxon players scored goals, led by juniors Olivia Sisson and Grace Goettman, who both netted three apiece. The Highlanders were led by junior Alex Lockhart's four goals.
Following this week's spring break, the Lady Saxons, currently ranked eighth in Laxpower's Virginia state rankings, will face a tough schedule with four of their seven remaining regular season games set to be played against Top10 ranked opponents.
Playing under clear skies and mild conditions, the Saxon starting squad, in last week's meeting with McLean, immediately showcased a blistering display of offense, scoring eight times in the game's first eight minutes.
Junior Rachel Wagner drew first blood on a feed from behind the crease by senior captain Ellie Glasgow. Senior Nicky Pritchett combined with Sisson, and then Goettman tallied a score on an athletic solo move. Glasgow netted a nifty crossing pass from Sisson, who then scored herself on a penalty shot. Junior Hayley Soutter assisted on a goal by Goettman, who completed her hat trick unassisted before Glasgow scored again to give Langley an 8-0 lead with 17 minutes, 10 seconds remaining in the half.
The Langley scoring continued as Soutter scored on a set play from a feed by senior Margo Swomley; followed by senior Ann Frances Davis rifling a shot at close range to make the score 10-0.
The Highlanders (2-3) broke through on a penalty shot by freshman Elise Koehl, but the respite was brief as Langley sophomore Jordan Simonides executed a terrific pickoff, run and left-handed goal.
Following saves by Saxon goalie Erin Long and McLean's Miranda Matheny, the Highlanders scored two goals off turnovers from Lockhart and senior Jacki Kleger. It was left to Saxon freshmen Julia Byrne to finish the first half's scoring at 2:39 with a feed from fellow frosh Nicole Lee to make it 12-3 at the break.
The second half was much the same as Langley head coach Richard DeSomma continued to rotate his team and provide younger players valuable playing time. Sisson was a dominant presence during the half, scoring early off a half field set and handling the ball for extended periods of time. Simonides scored on yet another deft feed from Soutter and Pritchett opportunistically scooped in a ground ball among a crowd near the crease. Swomley tossed a goal in off a clever double-clutch move.
Following two scores by Lockhart of the Highlanders, junior Nikki Dunne tallied for Langley to make the score 17-5 with 10 minutes left. The Saxons were then content to play good defense and move the ball around the perimeter on offense. Junior Ava Mirsadegan scored for McLean and Lockhart completed a fine showing with her fourth goal. Following an extended display of stick handling and movement by the Saxons, Sisson completed her hat trick with a weaving goal at 3:36 and a freshman duo finished the Saxon scoring with Maggie Prendergast scoring on a feed from Aubrey Zarella with time running off the clock.

— Lacrosse Report Correspondent/Peter Mahoney