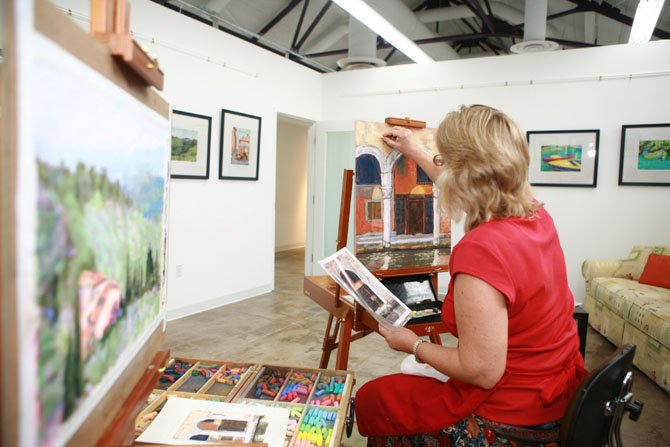 Lorton — The Workhouse Arts Center has announced that two of its artists will be traveling abroad this spring to fulfill one month artistic residencies. Carol Iglesias, an Associate Artist at the Workhouse, will be traveling to Dinan, France and Hadrian Mendoza, a Studio Artist of Building W-8, will be traveling to Fuping, China.
Local Workhouse Associate Artist Carol Iglesias has been accepted as an artist-in-residence into the prestigious l'Atelier d'Ariste de Grande Vigne in Dinan, France for the month of April. The purpose of the program, which was started by French artist Yvonne Jean-Haffen before her death in 1993, is to perpetuate a tradition that goes back to the 18th century whereby artists from around the world are invited for a one-month stay. When accepted, the artist receives the use of a studio and housing in Dinan in exchange for a painting created during their stay and chosen by a selection committee. The painting is then put into the permanent collection of La Grande Vigne and used in exhibitions by the association.
Iglesias' passion for painting European streets, old buildings, boats and reflections led her to apply for the residency last fall. Her extensive love of travel inspires her and provides the subject matter for much of her work, which she describes as "Impressionist Style in Vibrant Colors." Throughout her career, she has painted many locations in Europe, including Provence and Tuscany, as well as many sites in the Caribbean and the United States. She has shown her pastel paintings in over thirty exhibitions in galleries and museums throughout Virginia, Maryland, Washington D.C., South Carolina, Iowa, Puerto Rico and Washington State. She has also exhibited her work in shows which have traveled around the U.S. Her paintings can be found in many published books and magazines as well as in public and private collections around the world. At the Workhouse, her work is exhibited in the Vulcan Gallery.
Born in Montreal, Canada, Iglesias grew up in the Pacific Northwest, graduated from Olympic College in Washington State, and continued her study of art at The New School of Visual Concepts in Seattle. She enjoyed a successful career for twenty years as a graphic designer and art director. Also, she co-founded a design company in Asheville, North Carolina and won numerous awards both nationally and internationally for her designs. As a fine artist, she is an award winning signature member of the Maryland Pastel Society whose members come from Virginia, Maryland, Delaware, Washington D.C., West Virginia, Pennsylvania, Florida and New Jersey. Carol is the third Workhouse artist to be accepted into this program and the fourth Workhouse artist to travel to Dinan, France.
Dinan, is known as one of the most beautiful towns in France. Located in Brittany on the River Rance, it is considered one of the Earth's most beautiful spots, boasting aqueducts and a medieval wall around the town.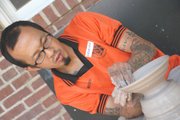 BUILDING W-8 ARTIST, Hadrian Mendoza, will participate in the Ceramic Art Residency Program at the FuLe International Ceramic Art Museums (FLICAM) in Fuping, China for the month of May. He is in charge of selecting the Southeast Asian artists and the logistics of the entire program.
With an aim to promote contemporary ceramic art in China as well as around the world, FLICAM places a heavy emphasis on blending old with new, East with West, and traditional with modern. All of the art works exhibited in the museums are created by artists who have completed a residency and are made from local materials found in Fuping. Artists are invited to Fuping to create contemporary ceramic art that will be permanently exhibited in a museum at the end of their stay.
Mendoza, a stoneware potter, looks for unusual and indigenous forms while creating, with a special interest in expressionistic and abstract shapes. Many of his pieces, which often include heavy cultural undertones, captivate the presence of his own cultural dilemmas as an artist. His work has been exhibited in many solo shows, as well as group shows internationally. His pieces are also a part of public and private collects around the globe.
Receiving his Bachelor of Arts in Business Administration from Mary Washington College, Mendoza was also a student at the Corcoran School of Art in Washington, D.C. where in 1997 he was awarded the prestigious Anne & Arnold Abramson Award for Excellence in Ceramics. During the late 1990's Mendoza decided to move back to the Philippines where, for the next few years, he began teaching ceramics and divulging further into his interest for Southeast Asia's indigenous forms. At the Workhouse, his studio and work can be found in Building W-8.
Since 2005, FLICAM has built over 20 museums, each by country, that exhibit ceramic works from around the world. Belonging to the Fuping Pottery Art Village (FPAV), FLICAM is a part of a larger site which includes a thousand acres of orchard land, a major ceramic tile factory, a ceramic leisure center, and a 3-star hotel.