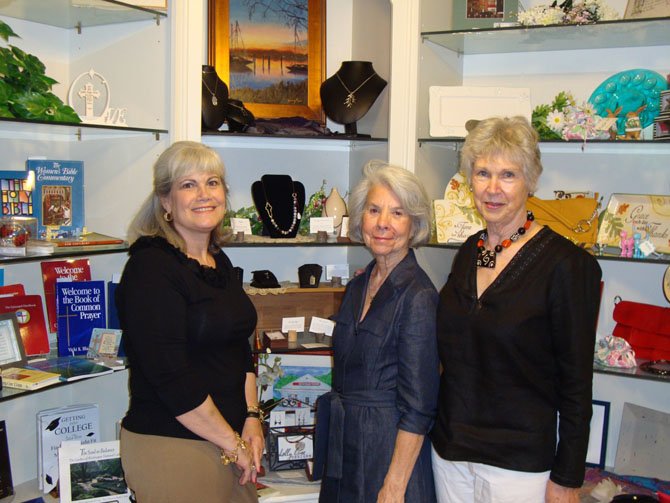 Alexandria — What do Alexandria Meals on Wheels, Carpenter's Shelter and Christians for Sudan have in common? These three and many others receive financial support from the Historic Christ Church Gift Shop.
Celebrating its 97th year of operation, the Gift Shop supports 24 local and global organizations and missions off its retail sales of cards, art, jewelry, home accessories, books and more. Managed by two dozen volunteer staff, the gift shop is open Tuesday through Saturday 10 a.m. to 4 p.m., and on Sundays from 8:45 a.m. to 1 p.m. The gift shop is located at 121 North Columbus Street, Alexandria, on the grounds of the Historic Christ Church.
According to Gift Shop Manager Kathy Moore, the shop was expanded physically in 1987 and its offerings also increased as were the recipients of its charitable donations. At the same time, the ranks of its dedicated volunteers grew. According to Moore, the Gift Shop volunteers are committed to offering unique merchandise and gifts in the shop, including art by local artists. The Gift Shop will feature two of the artists whose items are sold there at an April 19 Meet the Artist exhibit and reception from 6:30 to 8:30 p.m.
Alexandria artist Nancy Ziegler, whose original oil paintings are in private and corporate collections in the U.S. and abroad, is one of the featured artists. Ziegler is a member of the Vander Zee Studio Painters in Alexandria.
Virginia artist Tiffany Scott founded Holly Lane Designs in 2002 with the vision to created Christian jewelry that touched people in a way that encouraged them to ask about it. Each jewelry piece is accompanied by a passage from Scripture which relates to its design.
Scott's Holly Lane Designs jewelry and Ziegler's original oil paintings, giclee reproductions and art cards will be on display and available for purchase. In addition, Scott will conduct a jewelry creation demonstration and the Gift Shop will be open for browsing and sales.
The Gift Shop's Meet the Artist exhibit and reception will take place in the Mead Room of the Church's Administrative Building at 115 N. Columbus Street. The event is open to the public. Sales from the event will benefit the community organizations and global missions supported by the Gift Shop.
For more on the Historic Christ Church, visit www.historicchristchurch.org.
For more on Nancy Ziegler and her art, visit www.nancyzieglerpaintings.com.
For more on Tiffany Scott and her jewelry, visit www.hollylanedesigns.com.