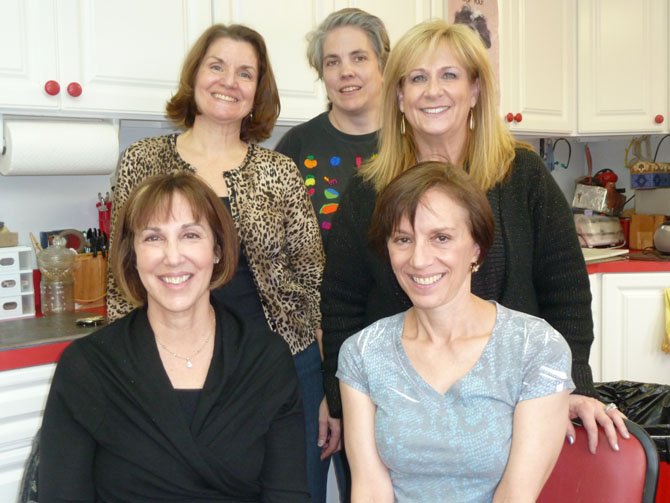 Potomac — "Marketplace" — a shopping mecca for Potomac residents who love jewelry, crafts, art, flea markets, bargains, shopping and great food — will make its debut on Saturday, April 28.
This inaugural event, sponsored by the Friends of the Potomac Community Center, will feature artisans, attic treasures, Peruvian chocolates, organic foods, the "Go Fish" seafood truck and more.
Shoppers will have an opportunity to experience the wide range and quality of creative talent within the Potomac community, to purchase lunch to eat on-the-spot or to take home delectable main courses, side dishes or desserts for dinner.
Potomac Community Center Board Member Penny Heltzer is thrilled with the number and variety of vendors who will be showing their wares at the "Marketplace." "We are bringing together artists representing a variety of mediums — acrylic, oil, watercolor, pastels and photography. Our artisans will present jewelry, ceramics, hand-woven baskets, original glass and hand-painted Romanian eggs. The farmer's market will include tasty treats including fresh fish, soups, breads, tarts and chocolate temptations as well as organic vegetables and fruits."
A wide assortment of food vendors will fill the Farmer's Market. "All Things Olive" will be on hand with fresh California extra-virgin olive oil, wine, apple cider and balsamic vinegars, citrus and herb-infused olive oils and olive kalamata tapenades. The "Go Fish" truck (Montgomery County's only mobile seafood) will serve fresh salmon, flounder, tilapia, lobster rolls, crab cakes, fish/shrimp tacos and crabby melts as well as ready –to-cook seafood which can be pre-ordered to be taken home. The Peruvian Chocolate Company will feature chocolates made out of the highest quality cacao found in the Peruvian Amazon. Pastry chef Natalie Morelli, owner of "Made with Love" will provide cakes, pastries, and other delights from her kitchen. She explains the name of her business with a smile, "Mami always taught me to do all things with love because they would just turn out better. She always said, 'if I wasn't going to do it with love, why do it at all.'"
Rockville's Great Harvest Breads, owned by Dan Heather Gottfried, will be featuring a variety of wholesome breads. Bakery Le Printemps will bring their Mediterranean cookie selection, while The Granola Bar will offer hand-baked granola. Oh Pickles will have every kind of pickle imaginable as well as kimchi, sauerkraut and pickled beets.
An array of crafts, paintings, jewelry and ceramics will also be featured. Hand-crafted belt buckles, earrings, necklaces, brooches — all wearable art — as well as photography, paintings and more will be available for purchase. Some of the local artists who will be participating are Linda Morelli, Crafters for a Cause, Nancy Heindl, Lucy Shapiro, Kati Pataki and Marie Power. Heindl has been painting plein air landscapes in the Potomac area as well as along the C & O Canal and Potomac River since 1968. Power is a watercolor artist who also paints the local landscape. Morelli and Shapiro will exhibit their jewelry and crafts. Quilter Kati Pataki will offer hand-crafted placemats, potholders and her "can't live without" baked potato bags — for use when microwaving potatoes and corn. They keep vegetables moist and warm for 30 minutes.
An area of attic treasures will provide an opportunity to locate that "one-of-a-kind" item — or to sell one's own possessions and/or clean out to make room for more treasures. To participate and register for a table at the Potomac Community Center "Marketplace," e-mail Penny Heltzer at acentmo@gmail.com or call her at 301-983-9624 or (cell) 301-641-9001.