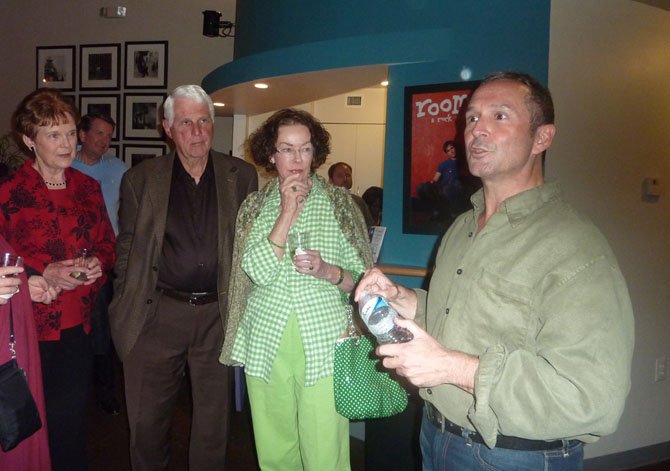 Alexandria — He was just 4 years old when his father hurriedly whisked him away one dark, moonless night into the unknown. For Jay Alvarez, the journey was profound and one he shares in a riveting performance of "Be Careful! The Sharks Will Eat You," a one-man show written and performed by Alvarez chronicling his family's flight from Fidel Castro's Cuba in 1964.
Fundraiser for PLTI
The Parent Leadership Training Institute of Alexandria will hold a fundraiser on April 19 at Alexandria's MetroStage for a performance of "Be Careful! The Sharks Will Eat You." Ticket prices begin at $50 per person and reservations can be made by calling 703-739-0233 or on line at www.plti-alex.org. Applications for enrollment in the next PLTI class can also be found on the website.
"The show is an intimate solo journey of my life as a Cuban-American," said Alvarez following his April 7 performance at MetroStage. "Much of the text is taken from a recording done by my father before he passed away."
Alvarez brilliantly reconstructs his family's struggles as Castro's regime takes hold and Cubans risk their lives for the freedom of America. Central to the story are his father Humberto and mother Chiqui as they leave behind their homeland in hopes of a better future for their children.
"It's the American story, really," Alvarez said. "Just my story about one family and how we survived."
Alvarez engages the audience in a personal, honest and dynamic piece of theater that follows Humberto as he masterminds a dangerous escape for 24 family members and friends. The fear and doubt are palpable as Alvarez takes us out to sea for 30 hours on boats held together with wooden screws.
"So much of the focus with immigration is on the numbers of people seeking visas," said Thomas Jefferson High School student Nick Arango, whose grandparents fled Cuba in 1959 under the threat of imprisonment. "But this story reminds us there are people behind those numbers risking their lives."
Directed by Theresa Gambacorta, "Be Careful! The Sharks Will Eat You!" played to sold-out audiences at Stage Left Studio in New York in June 2010, and was chosen to be performed at the United Solo Theatre Festival on Theatre Row in New York in November of 2010. It won Best Solo Performance at the 2011 New York International Fringe Festival and The Best of Fringe at the Hollywood Fringe Festival.
"I passionately want to share my story and reach out to both the Latino and American communities in our country," said Alvarez, who greets and talks with audience members about his story following each of his performances. "These communities have become very insular and the established American communities forget at times what people go through to get to our shores."
"Be Careful! The Sharks Will Eat You!" runs thru April 22 at MetroStage, 1201 North Royal St, Alexandria. For tickets or more information, call 703548-9044 or visit www.metrostage.org.